Celeste Prize 2017, 9th edition
The international art prize which rewards the work of emerging artists
Deadline: 30 June 2017
Entry fee: 50 € for a single work
Submit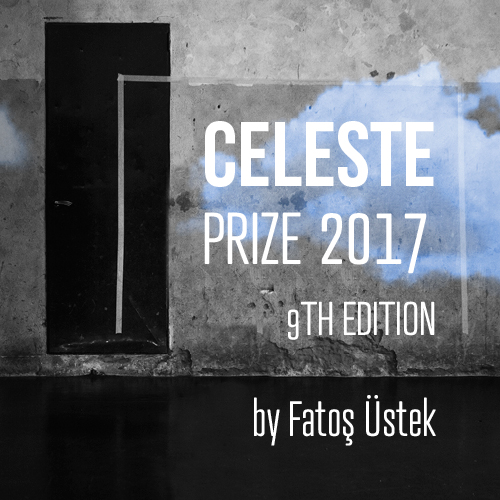 The international art prize which rewards the work of emerging and mid-career artists, builds careers and brings recognition by art curators and gallerists.
Show your artwork directly to jury curators and Fatoş Üstek, chief-juror of the prize and acclaimed curator of London's Art Night.
The Jury
Fatoş Üstek, chief-juror of Celeste Prize 2017
George Clark, independent curator and filmmaker
Ovul O. Durmusoglu, independent curator
Rozsa Zita Farkas, Arcadia Missa
Attilia Fattori Franchini, independent curator
Anna Gritz, Kunst Werke Berlin
Nav Haq, Muhka, Antwerp
Harriet Loffler, Norwich Castle Museum
Louise O'Kelly, BlockUniverse
Ilaria Puri Pure, Contemporary Art Society
Filipa Ramos, Art Agenda, Vdrome
Emiliano Valdes, Museum of Modern Art, Medellin
Ben Vickers, Serpentine Gallery
23,000 € cash prizes + 12 group shows with partner art galleries.
Project Prize, 4,000 €
Painting & Drawing Prize, 4,000 €
Photography & Digital Graphics Prize, 4,000 €
Video & Animation Prize, 4,000 €
Installation, Sculpture & Performance Prize, 4,000 €
Super-Young Prize, 3,000 €
Celeste Prize thanks its art gallery partners for their offer to invite and exhibit in 2018 a selection of entrants and their works. Galleries include: Artisti Italiani, Catania; Artrooms, London; Burning Giraffe Art Gallery, Turin; C&C Studio, Turin; Cell63, Berlin; Die Mauer, Prato; La Macina di San Cresci, Greve in Chianti; Plenum Photography, Catania; Still Photography, Milan; Studio 38, Pistoia; White Noise Gallery, Rome; Widmertheodoridis, Zurich.
Prizes:
23,000 € cash prizes + 12 group shows with partner art galleries.
Project Prize, 4,000 €
Painting & Drawing Prize, 4,000 €
Photography & Digital Graphics Prize, 4,000 €
Video & Animation Prize, 4,000 €
Installation, Sculpture & Performance Prize, 4,000 €
Super-Young Prize, 3,000 €
Eligibility:
international
Copyrights & Usage Rights:
All photos appearing onsite and in print remain copyright and property of the artist
Theme: