Street Photography by Blank Wall Gallery 2019
We are looking for all kinds of photos for the "Street Photography"
Deadline: 28 February 2019
Entry fee: Free
Submit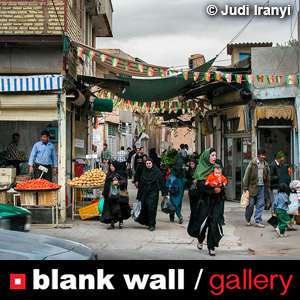 Urban environment is the perfect set for Street Photography.
People moving around the city are the subjects of the photographers. Most of the photographs are candid and spontaneous. No one cares if the image is sharp or blurred, colored or black and white. Everything that matters is the atmosphere of the city and the depiction of everyday life
We are looking for this kind of photos for the "Street Photography" competition. All means accepted.
Prizes:
The photographs exhibited at the gallery will be printed at the labs of Blank Wall Gallery free of charge. In case an artist wishes to send us the printed photos, they are free to do it.
The exhibitions organised by Blank Wall Gallery last for 2 weeks and everything needed for the realisation of the exhibition (printing of your photographs on 260 gsm paper, framing, hanging of the photos, press releases, invitations, opening night and supervision) are provided by our gallery without any additional charge.
Eligibility:
All photographers, amateurs and professionals who are over 18, are eligible to participate to the contest.
Copyrights & Usage Rights:
All photographers will receive a list containing the names of the artists that have been chosen for the exhibition.
The photographers chosen for the exhibition agree to supply a high-resolution file in any format they wish, suitable for printing upon request.
In case there is interest expressed for any of the works, Blank Wall Gallery will bring the collector and the artist in touch.
We do not take any commission from the artists' sales.
Artists grant Blank Wall Gallery the right to use their images to promote the exhibition, for display on Blank Wall Gallery webpage and for inclusion in an exhibit catalog.
The Artists declare that they are the owners of the Works that will be exhibited and they have their copyrights.
Any photograph used by Blank Wall Gallery will have a photographer's credit.
The royalties of the Works are not bestowed to Blank Wall Gallery at any time. The copyright of the Works remains in the creators and in them alone.
The copyright of the Works during and after the exhibition remains with the Artist.
Blank Wall Gallery does not have the right to make use of or bestow the high definition files or the prints of the Works that will be used for the realization of the exhibition.
Neither Blank Wall Gallery nor their associates, affiliates or partners assume any responsibility for photos submitted in violation of copyright regulations.
Theme: