10. International Güler Ertan Photo Contest 2019
FIAP Gold Medal - FIAP Silver Medal - FIAP Bronze Medal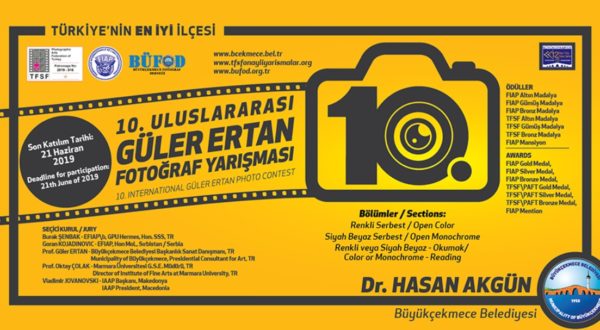 The purpose of "Municipality of Büyükçekmece, The 10th 'Güler Ertan' International Photography Contest - 2019" is to enhance the interest of amateur and professional photographers on photography and contribute to the development of photographic art. Starting with the 9TH. International Contest, the name of esteemed photography artist 'Güler Ertan' is added to the contest title because of her valuable support to photographic art.
Sections / Themes
"Open" Color Digital
"Open" Monochrome Digital
"Reading" Color or Monochrome Digital
Prizes:
FIAP Gold Medal
FIAP Silver Medal
FIAP Bronze Medal
TFSF Gold Medal
TFSF Silver Medal
TFSF Bronze Medal
FIAP Mention
Acceptance
FIAP Best Author
Our contest is approved by TFSF (Photographic Arts Federation of Turkey), FIAP (Federation Internationale de l'Art Photographique).
Award (Medal & Mention) and Acceptance points can be used during FIAP title applications.
Eligibility:
All amateur and professional photographers are welcomed to participate to the contest. Organization Committee, Executive Board, Secretariat, Jury Members, TFSF\PAFT (Photographic Arts Federation of Turkey) representative delegates and their first-degree relatives cannot participate to the contest. All participants can submit up to 4 (four) photographs for each category. The same image or color or B&W version of the same image cannot be submitted to more than 1 (one) category. Entries must originate as photographs (image-captures of objects via light sensitivity) made by the entrant on photographic emulsion or acquired digitally. By virtue of submitting an entry, the entrant certifies the work as his own and permits the sponsors to reproduce all or part of the entered material free of charge for publication and/or display in media related to the exhibition. This may include low resolution posting on a website. The exhibition assumes no liability for any misuse of copyright. An entry may be rejected when the sponsoring organization or its agent, in its reasonable discretion, believes the entry does not conform to exhibition rules and conditions.
Copyrights & Usage Rights:
-
Theme: