11th France + Singapore Photographic Arts Award
Top 10 finalists will get to exhibit in a group exhibition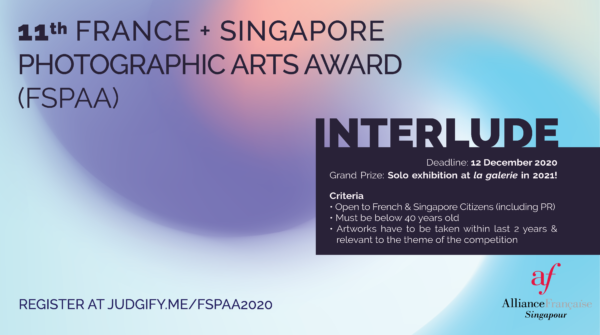 Alliance Française de Singapour is on the search for the next big photographic artist!
This is an international open call for the 11th France + Singapore Photographic Arts Award (FSPAA), an award that aims to feature French and Singaporean professional artists. Providing a platform to showcase their creative talents to an international audience, this award raises awareness of the experimental and emerging styles of photographic art. It is also organized to promote the exchange of artistic knowledge, experiences, and ideas between the artists from France and Singapore.
Applicants are required to propose 3 to 6 photographs. A judging panel consisting of 3 professionals from the creative industry will select 10 finalists from the open call proposals. If you are selected to be one of the top 10 finalists, 3 of your artworks will be exhibited at the finalist group exhibition held at la galerie from 27 January 2021 – 13  February 2021. The winner of the competition will be announced on the opening night of finalist group exhibition.
The GRAND PRIZE for the winner is a SOLO EXHIBITION at la galerie in 2021!
FSPAA JUDGES:
Lee Chor Lin, Independent Museum and Art Consultant
Gwen Lee, Co-founder and Director of Singapore International Photography Festival (SIPF) and DECK
Emmeline Yong, Co-Founder and Centre Director of Objectifs
THEME: INTERLUDE
Interlude is a short interval between a play or a concert. It is a liminal space that often calls for reflection and introspection, solitude amidst the chaos and uncertainty. Due to the outbreak of the pandemic, we have adapted to new routines and reconsidered the normalcy in our lives. An interlude is rather synonymous with the period we have spent in isolation where time seems to have stood still and a warm invitation for new beginnings.
Prizes:
Top 10 finalists will get to exhibit in a group exhibition at la galerie from 27th Jan - 13th Feb 2021, and the grand prize winner will be invited to host a solo exhibition at la galerie in 2021.
Eligibility:
You have to be a French or Singaporean citizen (including PR) to be eligible. - Participants must be below 40 years old at the time of submission. - 3-6 artworks submission that is relevant to the theme of the competition (the relevance should be explained in the artist statement) - Submission must be recent artworks taken within last 2 years - The complete proposal (with all the necessary contents included) must be submitted before the deadline: 12 December 2020.
Copyrights & Usage Rights:
-
Theme: