13. Arte Laguna Prize NEW DEADLINE TO APPLY > 19.12.2018
Promoting contemporary art since 2006!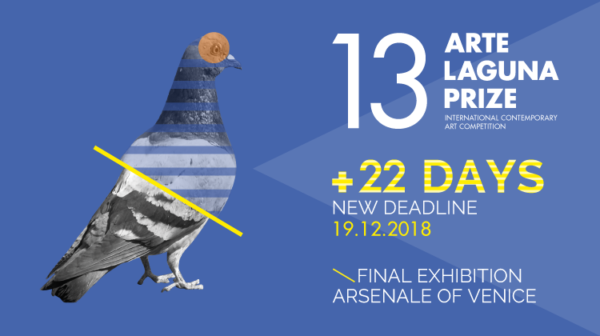 NEW DEADLINE TO APPLY > 19.12.2018
You still have time to apply to the 13th Arte Laguna Prize! The deadline has been POSTPONED TO DECEMBER 19th, 2018 for all the ten categories, including PHOTOGRAPHIC ART!
Apply on-line atwww.artelagunaprize.com
The international jury will select 120 artists for: the exhibition at the Arsenale of Venice in March 2019, the 6 cash prizes of € 7,000 each..
24 international Partners will select the winners among all the participants for: exhibitions in international Art Galleries, collaborations with Companies and art platforms, Art Residencies, International Festivals, the Sustainability and Art Prize dedicated to plastic.
The other sections of the competition will be evaluated by international art experts selected on the basis of their curriculum and their expertise. Among them, the President Igor Zanti, together with photograph experts Richard Noyce, writer, scholar and art critic and Enrico Stefanelli, artistic director of Photolux Festival.
Prizes:
HE PRIZES
-6 cash prizes of 7.000 €
-2 art platforms & supporters
-4 business for art
-4 festivals and exhibitions
-4 exhibitions in art galleries
-9 art residencies
-1 Sustainability and Art Prize of 3.000 €
Eligibility:
The jurors of the different sections will evaluate the works by taking into considerations the international contemporary art features and according to qualitative criteria as well as research and technical abilities. The jury can evaluate all the submitted material. The jury will make the first selection by choosing 200 or more artists, who will be admitted to the second selection, after which the finalist artists, who will participate in the group exhibition at the Arsenale of Venice from March 16th to April 7th 2019, will be announced. The winners of all the other prizes will be selected by each partner (see art.4) . The selections results will be announced online on the website www.artelagunaprize.com The proclamation of the overall winners and of all the prizes will take place during the inauguration of the finalist artists exhibition on March 16th 2019. The set-up and the organization of the exhibition will be done by Arte Laguna srl and the Italian Cultural association MoCA. Transportation (round trip) and possible artworks insurance costs will be at the expense of each artist. The decisions of the Awarding Juries are irrevocable and unquestionable.
Copyrights & Usage Rights:
The brainchild of Cultural Association MoCA, Arte Laguna Prize is an international art competition dedicated to the visual arts, in particular painting, sculpture, photography, video art and performance, virtual and digital art. Its aim is to promote and support the artists and their career by offering a range of opportunities.
Since 2006 Arte Laguna Prize has grown and created year after year a network of collaborations with Foundations, Museums, Galleries, Companies and Art Residencies programs. It established partnerships with art galleries, connections with the business world and art residencies.
Theme: