17th Annual Smithsonian.com Photo Contest 2019
The winners of each of the six categories will receive $500.
Deadline: 30 November 2019
Entry fee: Free
Submit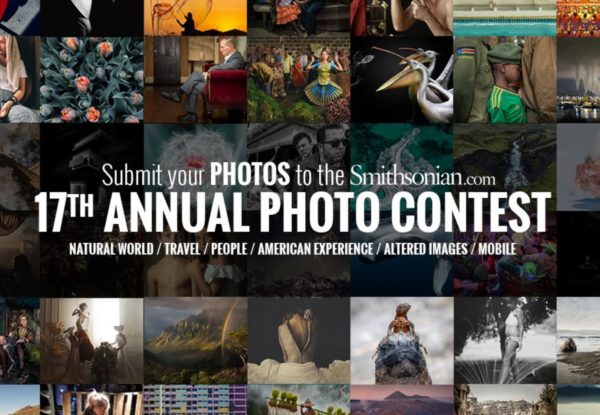 Our 17th Annual Photo Contest is now open for submissions, and we're looking for the best of the best.
The following six contest categories are drawn from subjects of special interest to Smithsonian.com:
1. Natural World: Animals, plants and landscapes; geological or climatological features; and scientific processes and endeavors.
2. Travel: Locales, peoples or activities in the United States and abroad that convey a sense of place.
3. People: Portraits and photos of groups or individuals.
4. The American Experience: Events, objects or activities connecting the American people to their history or their cultural heritage; photographs that tell us what it means to be an American and provide a sense of what it is like to live in this country.
5. Altered Images: Photographs manipulated for artistic purposes by applying digital and/or traditional special effects.
6. Mobile: Any photograph taken with a mobile device (phone or tablet).
Photo entries will be judged based on creativity, quality, originality, responsiveness to the prompt and overall impact.
The Smithsonian will select 10 finalists per category, a winner for each category, and a Grand Prize winner from the 60 finalists. The 60 finalists will be notified of their status and appear on our website in March 2020. At that time, the public can vote on our website for the Readers' Choice winner from among the 60 finalists. The Readers' Choice winner, Grand Prize winner and category winners will be revealed online in spring 2020.
Prizes:
Eight prizes will be awarded, as follows:
Grand Prize: $2,500, plus a trip sponsored by Travel category sponsor The Beaches of Fort Myers & Sanibel. Images submitted to all categories are eligible for the Grand Prize.
Trip Details
The Beaches of Fort Myers & Sanibel will award the Grand Prize winner a four-night hotel stay for two in a one-bedroom beachfront suite at Casa Ybel Resort on Sanibel Island as well as a $1,000 flight voucher for travel to Southwest Florida. Booking window: April 1, 2020 through December 31, 2020, excluding major holiday periods (Easter, Memorial Day, 4th of July, Labor Day, Thanksgiving, Christmas). Meals, drinks, transportation, activities, expenses, gratuities, airport taxes, or any additional fees not included. Flight costs outside of the $1,000 voucher are not included. Winner will be responsible for all taxes on the prize.
About The Beaches of Fort Myers & Sanibel
On The Beaches of Fort Myers & Sanibel, warm Gulf waters surround you with endless things to do. Find seashells on miles of white-sand beaches, discover abundant wildlife and venture away from shore for fishing and water sports, like kayaking around Sanibel and the barrier islands.
About Casa Ybel Resort
Nestled on 23 spectacular acres along Sanibel Island's famous white-sand beach, Casa Ybel Resort welcomes guests to a historic retreat that perfectly complements the tranquil beauty of Florida's Gulf Coast. This Sanibel Island hotel features 114 elegantly appointed suites with modern kitchens and magnificent views of the Gulf of Mexico, in addition to award-winning dining at Thistle Lodge and endless opportunities to enjoy Sanibel's year-round recreation.
Category Winners: The winners of each of the six categories will receive $500.
Readers' Choice: The winner of the online Readers' Choice award will receive $500.
One cash prize per person; winners may receive additional non-cash prizes. Winners must sign a release and license, as well as a declaration of eligibility, and will be responsible for paying any fees or taxes associated with the prize. All prizes are awarded "as is" and non-transferable. The Grand Prize trip is non-refundable and cannot be exchanged or redeemed for cash. In case applicable law prohibits the Smithsonian from awarding a photographer the cash prize and/or any non-cash prize, the Smithsonian may award the prize in name only.
Eligibility:
The Grand Prize, Readers' Choice prize, Natural World, Travel, People, The American Experience, Altered Images and Mobile category prizes are open to photographers who are 18 years old or older. The Travel category is made possible through the support of The Beaches of Fort Myers & Sanibel. Individuals affiliated with the Smithsonian Institution, including employees, emeriti, Regents, trustees, interns, volunteers, fellows, research associates and their immediate families (children, parents, siblings and spouses) and others living in their households, as well as employees of The Beaches of Fort Myers & Sanibel, its parent or affiliate companies as well as their immediate families (children, parents, siblings and spouses) and others living in their households, are not eligible for any prize. The Smithsonian will determine winners' eligibility in its sole discretion.
Copyrights & Usage Rights:
You retain your rights to your photograph; however, by entering the contest, you grant the Smithsonian Institution (and those authorized by the Smithsonian) a royalty-free, world-wide, perpetual, non-exclusive license to publicly display, distribute, reproduce and create derivative works of the entries, in whole or in part, in any media now existing or later developed, for any Smithsonian Institution purpose, including, but not limited to, advertising and promotion of the magazine and its website, exhibition, and commercial products, including but not limited to Smithsonian Institution publications. Any photograph reproduced will include a photographer credit as feasible. The Smithsonian Institution will not be required to pay any additional consideration or seek any additional approval in connection with such uses.
Theme: