1st Grand 365 Photo Contest 2020
365 Photo Contest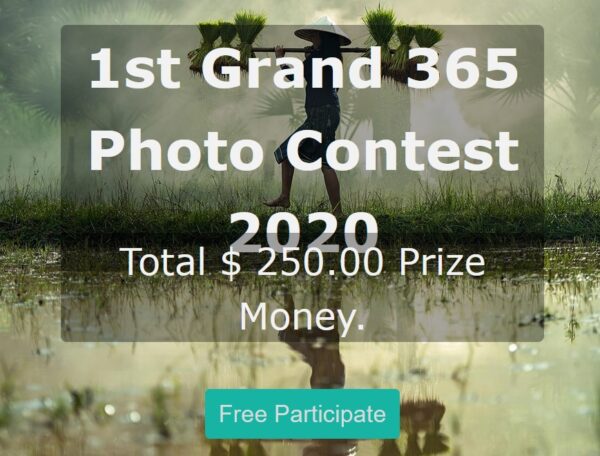 Looking for those with a bold & innovative approach that disrupts traditional artistic standards, participants can submit entries in any category. There are no restrictions on interpretation, creativity, or aesthetic; we accept all formats that showcase new talent and help grow the notoriety of photography as fine art. We are looking forward to seeing your best work!
Prizes:
125$ Cash Prize, 365 Photo Contest GOLD and E-Certificate
75$ Cash Prize, 365 Photo Contest SILVER and E-Certificate
50$ Cash Prize, 365 Photo Contest BRONZE and E-Certificate
10 Honorable Mention MEDAL and E-Certificate
Eligibility:
The Competition is open to professional and amateur photographers and only to those who are 18 years of age or older as of the date of entry. The Competition is open to legal residents from all over the world, and is void where prohibited by their local law.
Copyrights & Usage Rights:
The participant retains the copyright of all submitted images.
By entering the competition, you grant 365 Photo Contest and its partners a non-exclusive, royalty-free, irrevocable license to publish images for any purpose directly connected with the competition. This includes a display on the 365 Photo Contest website and on the websites of partners; on social media used by 365 Photo Contest and its supporters; for use in marketing and communication purposes.
Theme: