2016 National Juried Photo Encaustic Exhibition
$400 and group exhibition
Deadline: 16 April 2016
Entry fee: Entry Fee is $30 for up to 5 images, $10 each additional image. There is no limit to the number of images that may be submitted.
Submit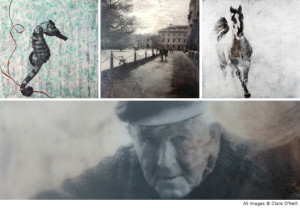 Photo Encaustic images can be defined as "where photographs meet hot beeswax, pigments, texture, and experimentation". The image can be the entire piece or partially incorporated, but all work must include a photograph either adhered to the substrate, printed on a non-traditional paper and embedded, or a photo transfer.
Submit your work to be part of a group show at Sage Gallery in Portland, Oregon
Prizes:
First Place: $300
Second Place: $100
Being selected to be part of this group puts you in great company with other artists and photographers from around the world. Sage Gallery provides a home for all photographic based contemporary arts.
Eligibility:
All images must be submitted electronically. Mailed/emailed submissions will not be accepted.
Copyrights & Usage Rights:
All artwork that incorporates photography and encaustic medium will be considered. The exhibition is open to amateur and professional photographers worldwide. The artwork must be original and created by the person entering the work. All photographs incorporated in the artwork must be original images taken by the artist or copyright free images. Either color or monotone is acceptable. Artwork needs to be less than five feet on it's longest side. 3D pieces are acceptable as long as it incorporates an image and encaustic medium. There are no guidelines on how large or small the photograph incorporated in the work must be.
All images must be submitted electronically. Mailed/emailed submissions will not be accepted.
All entrants agree that any image submitted to Sage Gallery and PhotoEncaustic.com may be used for marketing and promotional purposes directly relating to the exhibition. This may include, but is not limited to, publication in any printed materials, advertisements, electronic media, displays and websites. The artist grants the use of their images as stated without further contact or compensation. Any image used shall carry a credit line of the artist. Copyright and all other rights remain with the artist.
Theme: