2018 Accenti annual Photo contest
Capture an Italian moment for a chance to win 1,000$!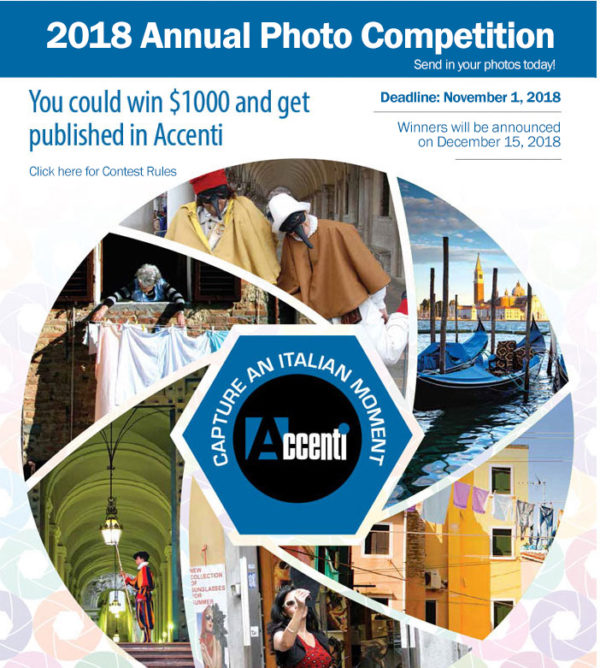 2018 edition of Accenti magazine's annual photo contest.
Submit a photo of an "Italian moment" for a chance to win a grand prize of 1,000$CAD, as well as three prizes of 100$. All winning entries will be published in the magazine.
Rules: https://www.accenti.ca/photo-contest-rules
Prizes:
Grand prize: 1,000$ and publication in Accenti magazine
Three (3) runner-up prizes: 100$ and publication in Accenti magazine
Eligibility:
Open to amateurs/professionals worldwide
Copyrights & Usage Rights:
I declare that I am the sole copyright holder of the photo image described above and that it is an original work. It has not been published in any way, (simultaneously) submitted elsewhere, or presented in front of a public audience. I hold all rights to the image and hold harmless Accenti Magazine from and against any and all liability, loss, damage, cost or expense, paid or incurred by reason of any of the representations made hereunder. I grant the publishers of Accenti Magazine permission to publish said image at their discretion in Accenti Magazine and in Accenti Online.
Theme: