2019 Lexar Global Photo Contest
Nature's Amazing Landscapes.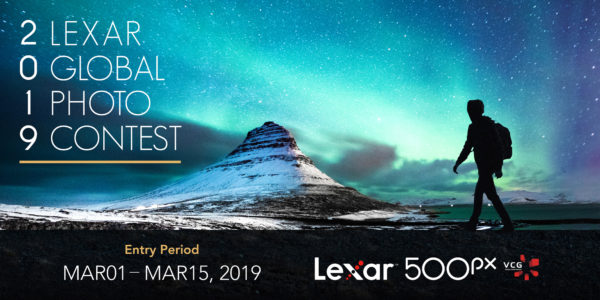 The Lexar Global Photo Contest will encompass the theme of, "Nature's Amazing Landscapes." It's open to both amateur and professional photographers all over the world to submit outstanding works conveying nature at its best.
Prizes:
Global Photographer Grand Prize (x2): USD $5,000+ 1TB of Lexar Professional memory cards or SSD
Global Photographer Best of Show Award (x5): USD $1,000+ 512GB of Lexar Professional memory cards or SSD
Eligibility:
The photo should not be less than 800K, and the longest side of the picture should not be less than 1920 pixels Photo should appear natural, with minimal retouching and color manipulation
Copyrights & Usage Rights:
The right to interpret the activity belongs to the organizer.
The competition is open to all professional photographers and photography enthusiasts, regardless of age or country;
The entrant's act of filling in the information and submitting the entry shall be deemed that the entrant fully understands the contents of the rule and is committed to accept the rules.
Participants shall have independent, complete, clear and uncontroversial copyrights in their works; they shall also ensure that the works they deliver do not infringe on third parties (including but not limited to): copyright, portrait rights, reputation rights, privacy rights Any rights, etc.; all legal liabilities and all losses caused by the above infringement shall be borne by the participating authors themselves.
Don't add watermark to the submitted works, you must keep the original EXIF information and originals of the works (the camera group works best keep the original RAW format). If there is a dispute over the copyright and it is impossible to provide proof of the original EXIF information, the organizing committee has the right to cancel the qualification of the project;
The entrant owns the copyright of the work. During the competition, the sponsor and its licensees have the right to use the entrant's work. Entries will not be used for other purposes unrelated to the photo contest without the author's permission.
The organizer owns the right to use the winning works within one year from the date of publicity, and the works can be used by the organizers for promotional purposes related to the photo contest.
All participants shall be deemed to have accepted all the above requirements once they submit their contributions. All legal liabilities arising from violation of the above provisions shall be borne by the contributor himself, and shall not be related to the submission platform and the organizer of the event.
Theme: