2019 Middle East Institute Photography Contest
Win up to $500 for your "Untold Stories" of the Middle East
Deadline: 17 July 2019
Entry fee: Free
Submit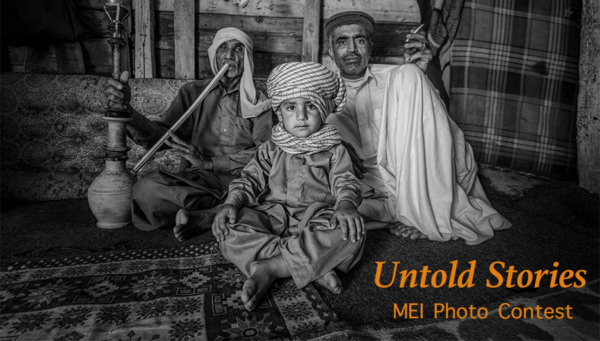 The Middle East Institute (MEI) is pleased to announce that the submission period is open for its third annual digital photography contest: Untold Stories.
This year's contest seeks photographs with a story to tell about the people, places, history and culture of the Middle East and North Africa. We particularly invite submissions that showcase underrepresented communities and traditions, and highlight the vibrant and diverse spirit of the region. Creativity in interpreting the theme is highly encouraged, and submissions from all genres and skill levels are welcome.
Please note that previously published material is not eligible.
Photos will be reviewed by a panel of volunteer judges who will select First, Second, and Third Prize winners, as well as a number of Honorable Mentions.
Winning photos will be exhibited at the Middle East Institute and auctioned at MEI's Annual Gala on November 12, 2019 in Washington, D.C. to support MEI's arts and educational programs.
Please read all contest rules below before submitting. The deadline for submissions is Friday, July 19, 2019.
Prizes:
First Prize - $500
Second Prize: $250
Third Prize: $150
Honorable Mentions: $75 each
Eligibility:
The Middle East Institute (MEI) Digital Photo Contest ("Photo Contest") is open to all professional and amateur photographers who have reached the age of majority in their jurisdiction of residence at the time of entry. Board Members and Employees of The Middle East Institute, as well as the immediate family (spouse, parents, siblings, and children) of those persons are not eligible to enter. By submitting an entry to the Photo Contest, entrants certify that their participation in this Photo Contest is not illegal or in violation of any law, regulation, treaty or administrative act. MEI reserves the right to reject any entry if, in MEI's sole discretion, the laws of an applicable jurisdiction, including but not limited to the entrant's jurisdiction of residence at the time of entry, would prohibit or limit MEI from proceeding with the Contest as intended. MEI is unable to award prize money to winning entrants who live in countries under US sanctions. Individuals residing in such "Excluded Jurisdictions" are welcome to enter the Photo Contest, and if selected as winners will receive full recognition for their work, but by entering acknowledge that they are ineligible to receive prizes. Excluded Jurisdiction means any country listed on the US Treasury Office of Foreign Assets Control (OFAC) Active Sanctions Programs list available at https://sanctionssearch.ofac.treas.gov/.
Copyrights & Usage Rights:
Your photographs help MEI raise awareness of the arts and culture of the Middle East and its diaspora communities. Thank you for helping to further our mission through your photography.
You will retain all rights to any photograph you submit -- including ownership if applicable. A copyright notice with the photographer's name will accompany winning images when used by MEI. Third-party requests for use of winning images will be forwarded to the photographer.
If your photograph is selected as a winner in the Photo Contest, you grant MEI a 5 year royalty-free, nonexclusive right to:
Display the photograph on mei.edu.
Allow third-parties to share the photograph on social media.
Use the photograph on the Internet and Social Media in support of our mission.
Use the photograph in MEI's internal and external communications materials including but not limited to web sites and web publications, fact sheets, fundraising publications, advertising, multimedia, presentation and membership services, annual report and the Middle East Journal.
Provide your photograph to other individuals and organizations for MEI-related use in news stories, newsletters, reports, slide shows, displays, web pages, videos, membership premiums, and the like.
Use, in connection with the Photo Contest, your name, city, state and country of residence in promotions and other publications.
Retain a digital copy of your photograph that will be archived in MEI's photo library and accessible to MEI staff via the MEI internal online photo archive.
The Middle East Institute will endeavor to credit all photographs with the caption "Person's Name" when the full name is available.
Additionally, one large print of each winning photograph will be auctioned at the 2019 Annual Gala to benefit The Middle East Institute. MEI does not reserve the right to reproduce any submission for sale beyond the aforementioned event.
GENERAL CONDITIONS
In the event that the operation, security, or administration of the Photo Contest is impaired in any way, Sponsor may, in its sole discretion, either: (a) suspend the Photo Contest to address the impairment and then resume the Photo Contest; or (b) award the prize(s) from among the eligible entries received up to the time of the impairment. Sponsor reserves the right, in its sole discretion, to disqualify and seek damages from any individual who tampers with the operation of the Photo Contest, violates these Official Rules, or acts in a disruptive or unsportsmanlike manner. Sponsor's failure to enforce any term of these Official Rules shall not constitute a waiver of that provision. Proof of sending any communication to Sponsor by mail shall not be deemed proof of receipt of that communication by Sponsor. In the event of a dispute as to the owner of an online entry, the authorized account holder of the e-mail address used to enter will be deemed to be the owner. The Photo Contest is subject to federal, state, and local laws and regulations and is void where prohibited.
RELEASE AND LIMITATIONS OF LIABILITY
By entering, you agree to release and hold harmless Sponsor and its officers, directors, employees, and agents (the "Released Parties") from and against any claim or cause of action arising out of participation in the Photo Contest or receipt or use of any prize, including, but not limited to: (a) unauthorized human intervention in the Photo Contest; (b) technical errors; (c) printing errors; (d) late or undelivered mail; (e) errors in the administration of the Photo Contest; or (f) injury or damage to persons or property. You waive the right to claim any attorneys' fees and any damages whatsoever, including, but not limited to, punitive, consequential, direct, or indirect damages.
PRIVACY AND PUBLICITY
Except where prohibited, you consent to Sponsor's use of your name in any list of winners (if applicable) and for promotional purposes in any media without further payment or consideration.
DISPUTES
You agree that any and all disputes, claims and causes of action arising out of, or connected with, the Photo Contest or any prize awarded shall be resolved individually, without resort to any form of class action, and exclusively by the appropriate court located in Washington, DC. All issues and questions concerning the construction, validity, interpretation and enforceability of these Official Rules, your rights and obligations, or the rights and obligations of Sponsor in connection with the Photo Contest, shall be governed by, and construed in accordance with, the laws of the District of Columbia, without giving effect to any choice of law or conflict of law rules (whether of the District of Columbia or any other jurisdiction), which would cause the application of the laws of any jurisdiction other than DC.
Theme: