2021 ICM International Martial Arts Contest
Our Daily Lives with Martial Arts: The value of martial arts
Deadline: 8 October 2021
Entry fee: Free
Submit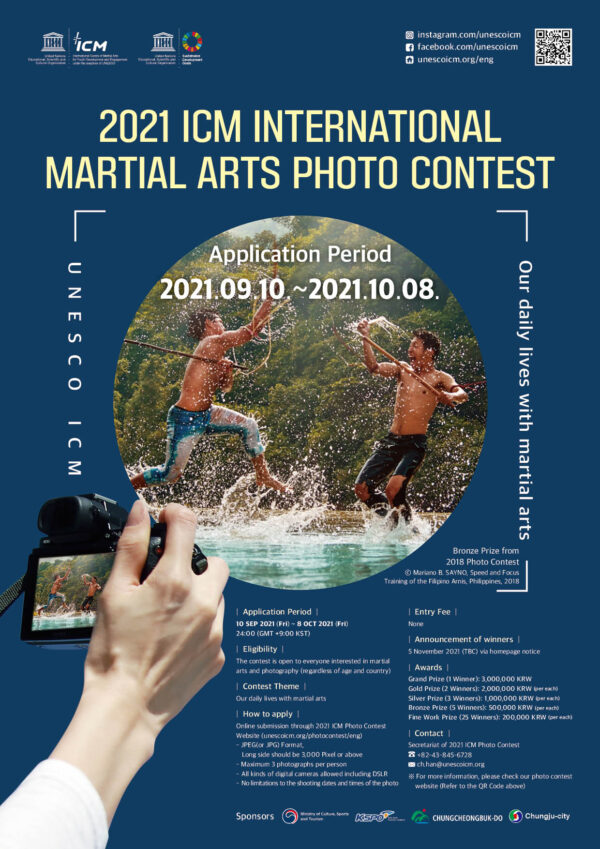 Theme: The value and philosophy of martial arts in our everyday lives.
Training martial arts in our daily lives makes our body and mind healthy and changes our life positively. Martial arts teach us courage and wisdom as well as make us learn patience and perseverance. Martial arts are not separated from our life, and it is an art and a technology that are dynamically existed in our daily lives. The true value and profound philosophy of martial arts are always with us.
Prizes:
Grand Prize: 3,000,000 KRW ($2,500 USD ish) / 1 Person
Gold Prize: 2,000,000 KRW ($1,700 USD ish) / 2 People
Silver Prize: 1,000,000 KRW ($850 USD ish) / 3 People
Bronze Prize: 500,000 KRW ($425 USD ish) / 5 People
Fine Work Prize: 200,000 KRW ($170 USD ish) / 25 People
Eligibility:
Anyone interested in martial arts and photography regardless of age and country (The contest is open to both Koreans and Foreign nationals)
Copyrights & Usage Rights:
The photo work that you submitted must be a work whose copyright has been resolved, and in the event of problems such as license or portrait rights, the revocation fo the award, and the applicant is liable for civil and criminal charges.
Theme: