2023 International Animals Art Competition
Ten Moir Gallery announces a Call for Entry for the Animal Competition
Deadline: 28 March 2023
Entry fee: $25
Submit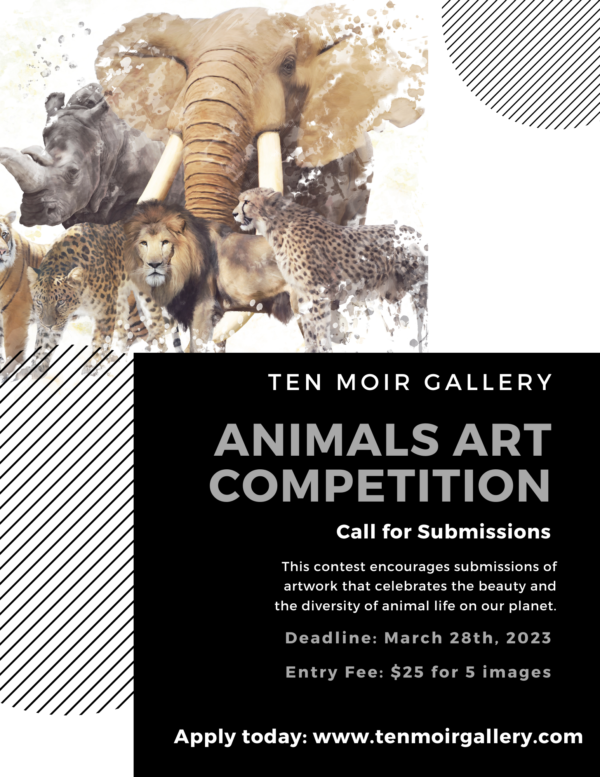 This theme invites artists to submit photos that depict living animals, organisms, mammals, birds, insects and any other animals that may also live in the wild or in captivity.
The exhibition and winning artists will be marketed and promoted extensively through the gallery's website, in hundreds of online press release announcements, email marketing campaigns to over 8,500 buyers, collectors, galleries and art professionals, online event calendars, through art news websites and through our growing social media network.
About Ten Moir Gallery
Ten Moir Gallery is a gallery dedicated to providing a platform for emerging and established artists to promote their artworks, with the aim of bringing about greater awareness of the artist's work. The gallery provides artists with an opportunity to exhibit their work digitally through monthly contests, group and solo exhibitions. The gallery offers cash prizes, exhibition opportunities, and worldwide publicity for the winners of its monthly competitions.
Prizes:
Best in Show will receive a digital reward certificate and be the featured artist during the exhibition date. All award winning artists will receive a digital award certificate. Depending on the number and quality of all submissions received, Honorable Mention awards may also be given.
Eligibility:
Open to all skill levels. Open to photographers around the world.
Copyrights & Usage Rights:
Your images will be used only for marketing, promotional, and display purposes for any show organized by Ten Moir Gallery.
You the artist agrees to allow Ten Moir Gallery to archive choosen artwork as part of exhibition. This will be available for public viewing on our website tenmoirgallery.com
The artist shall retain all copyrights of any image they submit to Ten Moir Gallery.
Theme: