"24 SNAPSHOTS OF BIKES"
The bicycle and mankind
Deadline: 24 February 2017
Entry fee: Free
Submit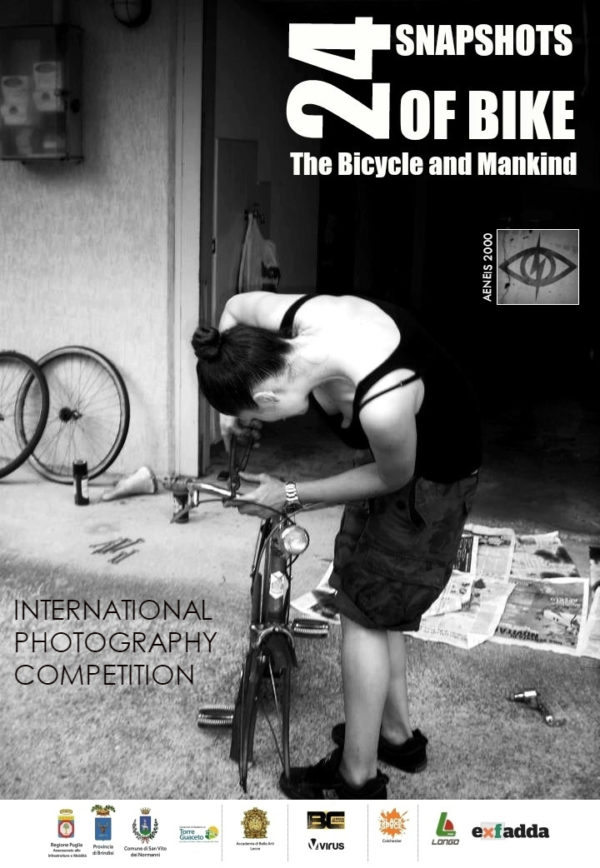 The theme is "The bicycle and mankind" and participation is free and open to either professionals or amateurs.The Competition's aim is to pinpoint, through an original picture, the relationship that links the bicycle to mankind in varying situations. Every competitor may submit a maximum of three photographs – by and no later than 12:00 (Italian time) on 24th February 2017 either by email to the email address of the Association Aeneis 2000 or by ordinary post on a CD-ROM (to the address of the Town Council of San Vito dei Normanni, Brindisi, Italy). The photographs may be in colour or in black and white and should be assigned a title in English. The jpg format should be at least 300dpi, such as to allow printing at 50x70 cm (maximum size). An examining committee will assess the submitted works for admission to the final. The works will not be returned and will be kept by the Association Aeneis 2000, which retains the rights to only publish or display them for the scheduled aims of the Competition and guarantees always to cite the photographer. The 24 winning photographs will be selected, according to the unquestionable judgement of the committee that is not open to appeal. One of the 24 will be judged and awarded a special merit. All the photographs admitted to the final, will be displayed on the 7th May 2017 in an exhibition that will take place at the former Dominican Cloister of San Vito dei Normanni (Brindisi Province of Italy). This competition will be part of the international programme of events named FULL BIKE DAY: THE BICYCLE IN ALL ITS ARTISTIC FORMS, and in other national and international locations. The event is sponsored by the department for Infrastructure and Mobiliy of the Region of Puglia (Italy). The participant affirms that the images submitted are their own unique works and are not prejudicial to third parties.
Addresses for sending photographs*
E Mail: associazioneaeneis2000@gmail.com
By post: Comune San Vito dei Normanni (Ufficio Cultura): Piazza Carducci 1, 72019 San Vito dei Normanni (Brindisi) Italy.
*In both cases in addition to one's own name, contact address, age, profession, the title of the work; it is necessary to indicate that the material is for: "24 Snapshots of Bikes photographic competition".
Prizes:
One of the 24 will be judged and awarded a special merit. All the photographs admitted to the final, will be displayed on the 7th May 2017 in an exhibition that will take place at the former Dominican Cloister of San Vito dei Normanni (Brindisi Province of Italy). This competition will be part of the international programme of events named FULL BIKE DAY: THE BICYCLE IN ALL ITS ARTISTIC FORMS, and in other national and international locations.
Eligibility:
The participant affirms that the images submitted are their own unique works and are not prejudicial to third parties.
Copyrights & Usage Rights:
The works will not be returned and will be kept by the Association Aeneis 2000, which retains the rights to only publish or display them for the scheduled aims of the Competition and guarantees always to cite the photographer.
Theme: