2ND FOTOFILMIC17 SPRING SHORTLIST CALL
Global Juried Contemporary Film & Analog Photography Competition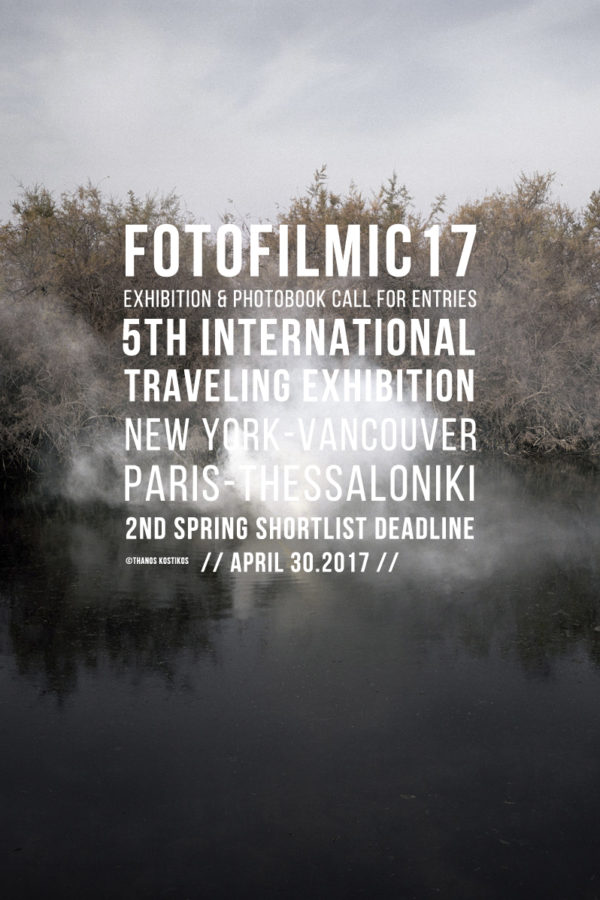 FOTOFILMIC17 GLOBAL JURIED COMPETITION
VANCOUVER // NEW YORK // PARIS // THESSALONIKI
A Worldview of Emerging Material Practices in Contemporary Photography
http://fotofilmic.com/submit/
2ND SPRING SHORTLIST Submission Deadline: APRIL 30, 2017
COMPETITION DESCRIPTION
FOTOFILMIC17 is the 5th edition of the FotoFilmic International Traveling Exhibition Competition, world's only global scale call for contemporary material photography presenting a unique and challenging worldview of 21st C. photographic arts rooted in analog, historical and film-based practices.
With the 1st WINTER SHORTLIST winners announced & published on March 2nd, the 2nd FOTOFILMIC17 SPRING SHORTLIST Call is now accepting film-based and analog photography & photo book entries until April 30.
30 SPRING photographers will be announced on May 2nd & published daily thereafter. A 3rd final SUMMER SHORTLIST Call will run May 1 - June 30 concluding the 6-month FOTOFILMIC17 Competition.
FOTOFILMIC17 TRAVELING EXHIBITION
Vancouver // New York // Paris // Thessaloniki
The FotoFilmic17 Traveling Exhibition's roll-back-in-time itinerary will take the work of its 30 laureates across 4 world cities and nations spanning both the New World and the Old Continent from the west coast shores of Vancouver, Canada to New England's Empire City New York, then across the Atlantic to the City of Lights Paris, France, and deep to the historical heart of Europe to Thessaloniki, Greece.
JURY
Larry Fink (photographer, USA)
Roger Ballen (photographer, USA)
Raymond Meeks (photographer, USA)
Valérie Cazin (Galerie Binome Director, Paris, France)
Barrie Mowatt (Vancouver Biennale President, Vancouver, BC, Canada)
Ashlyn Davis (Houston Center for Photography Executive Director, Houston, TX, USA)
Kosmas Pavlidis (Stereosis Photography School Co-Founder & Academic Director, Thessaloniki, Greece)
AWARDS
- 4 International Exhibitions in Vancouver, New York, Paris & Thessaloniki (30 photographers)
- $1,500 Buschlen Mowatt Nichol Foundation 1st Place Award
- $500 BEAU Photo 2nd Place Award
- 3rd Place Lomography Camera Kit & ADOX Film Kit Prize
- 4th & 5th Place Honorable Mentions & ADOX Film Kit Prizes
- 3 SHORTLIST Print Shows at the FotoFilmic//PULP Gallery in Vancouver (1st March 31 - April 28 WINTER SHOW)
- Online ShortList Interview Features (90 ShortListed photographers)
- Exhibition Catalog Publication (all 30 exhibitors)
ELIGIBILITY
- 18 years of age +, no restriction of age or nationalities
- Submission Guidelines & FAQ available at: http://fotofilmic.com/submissions-guidelines/
REQUIREMENTS
All photographs and books submitted must have been integrally shot either on film in any format or captured analogically (no digital capture). This is an open theme call and submitters can enter up to 10 images (individual images or series) and 1 Photo Book per entry.
Prizes:
- Participation to 4 International Exhibitions in New York, Paris, Vancouver & Thessaloniki
- $2000 Cash Awards, 2 Honorable Mentions, 3 Equipment Prizes (Lomography & ADOX)
- Catalog publication (30 exhibitors) + Online ShortList Features publications (90 photographers)
- 3 SHORTLIST SHOWS on Bowen Island, Vancouver, BC, Canada (10 exhibitors each)
- Inclusion in the FOTOFILMIC17 SHORTLIST Print Collection (30 photographers)
- Photo Book promotion & inclusion in the FotoFilmic FOTOBOOKS Collection (all entrants)
Eligibility:
18 years of age or older, no restrictions of nationalities, all works entered must have been shot either on film or using other analog methods (no digital capture)
Copyrights & Usage Rights:
All works entered must be the photographer's own. Entrants also guarantee that all copyrights corresponding to the work submitted in their name are theirs, or that in the case copyrights have been ceded to a third party they have effectively obtained express authorization from the third party to use their imagery for the purpose of being exhibited and published as part of FotoFilmic17.
Entrants certify that they have received in written form appropriate release from all models and persons featured in the work they enter regarding possible commercial uses.
By submitting work to the FotoFilmic17 International Traveling Exhibition and its SHORTLIST Calls, photographers also agree to the restricted use of their imagery for promotional purposes in relation to FotoFilmic17 online publications as well as printed marketing materials.
Theme: