31st Chelsea International Fine Art Competition 2016
Five artists will be awarded a cash prize of $1,000 each.
Deadline: 29 March 2016
Entry fee: There is a $45 entry fee for up to 5 images; $5 for each additional image.
Submit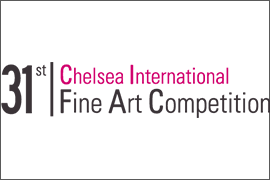 The Chelsea International Fine Art Competition is an ideal way to gain valuable exposure for your artwork, increase your confidence, and exhibit your talent to a wider audience. The Chelsea International Fine Art Competition is an excellent opportunity to foster your talent and develop the resume of a successful, professional artist.
With a distinguished panel of jurors and more than $70,000 in valuable prizes the 2016 Chelsea International Fine Art Competition is an event not to be missed.
The competition is open to visual artists from around the world at any stage in their careers. Artists are invited to submit in any of the following mediums: painting, sculpture, photography, drawing, mixed media, and print. Art submitted to the competition will be reviewed by a panel of expert jurors, each representing a different field in the art world, ensuring a fair and balanced judgment process.
Prizes:
Cash Prizes: Five artists will be awarded a cash prize of $1,000 each.
Collective Exhibition: 30 artists will be selected to exhibit at least one artwork (up to 7 ft. wide) in a collective exhibition which will take place at the street level space of Agora Gallery. In addition, each selected artist will receive:
Press Release – A unique press release will be written for each individual artist by one of our highly talented public relations writers.
Public Relations - The competition will invite a select list of attendees to the opening exhibition including: private art buyers, art consultants, corporations, non-profit organizations, businesses and members of the media.
Display Ad – An advertisement for the collective exhibition will be placed in a publication of the competition's choosing.
Opening Reception - An opening night reception will be organized for the artists, their invitees, and the New York art community at large.
Invitations By Email - Invitations promoting Exhibition and your artwork will be emailed to our mailing list of over 60,000 recipients.
Gallery Listing - The exhibition will be announced in a NY art magazine, such as Gallery Guide, M Magazine, etc., as well as on our website and on various other art-related sites.
Catalog – A piece of your artwork will be published in a color catalog specifically produced for the collective exhibition. The catalog will be distributed to the artists and art enthusiasts.
Social Media - Your artwork will be promoted on various social media channels, including Agora Gallery's Facebook page which has over 70,000 fans.
Agora-Gallery.com - Your artwork will appear in an exhibition page built on our Agora Gallery website and in addition photos from the opening reception will appear on Agora-Gallery.com and on Facebook.
Eligibility:
All visual artists worldwide above the age of 18 are eligible to participate.
Copyrights & Usage Rights:
-
Theme: