32nd Chelsea International Fine Art Competition
$70,000 in valuable prizes
Deadline: 21 February 2017
Entry fee: There is a $45 entry fee for up to 5 images ($5 for each additional image). Note that once you have paid, your entry is complete and you will be unable to make changes or submit additional images to your complete and paid entry.
Submit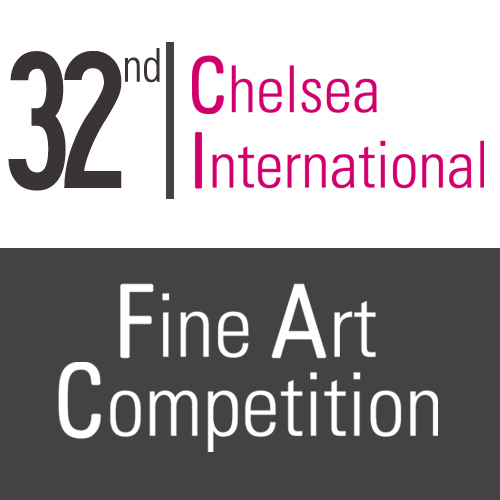 Artists from across the globe are invited to enter the 32nd Annual Chelsea International Fine Art Competition. With a fierce dedication to promoting the arts and discovering and exposing new talent, the CIFAC continues its tradition of honoring selected artists and awarding prizes aimed at giving artists invaluable exposure to promote career growth and boost recognition.
"The Chelsea International Fine Art Competition is a wonderful way to keep your artwork in front of important museum curators and art experts. Stay connected to the international art scene through competitions, let others see your work, and have your work create a dialogue with other artists." —Angela Di Bello, Director, Agora Gallery
Prizes:
5 artists will be awarded a cash prize of $1,000 each.
Eligibility:
The competition is open to visual artists from around the world at any stage in their careers. Artists are invited to submit in any of the following mediums: painting, sculpture, photography, drawing, printing, mixed media, and print. Art submitted to the competition will be reviewed by a panel of expert jurors, each representing a different field in the art world, ensuring a fair and balanced judgment process.
Copyrights & Usage Rights:
All of the images that you will be submitting are images of original artwork created by yourself or are artworks created by an artist who authorized you to submit the images on his/her behalf. Images submitted by you do not violate the privacy rights, publicity rights, copyright or other intellectual property rights of any person or entity. You may not post, distribute, or reproduce in any way any copyrighted material, trademarks, or other proprietary information without obtaining the prior written consent of the owner of such proprietary rights. Without limiting our rights, it is our policy to terminate all relations with any artist who infringes copyright upon our receipt of a notice of infringement from the copyright owner or the copyright owner's legal counsel.
We will have the right to publish images of your artwork selected by the jurors on our websites and other advertising channels to promote future competitions and your artwork.
Theme: