33° Concorso Fotografico Nazionale 1000 Miglia 2022
1° CANON EOS RP
Deadline: 30 June 2022
Entry fee: Free
Submit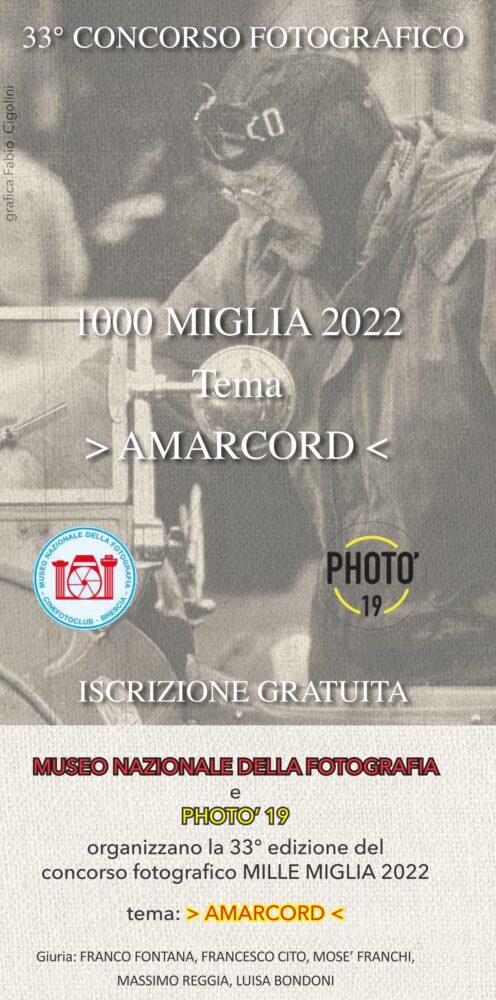 We borrowed the title of a film: Amarcord, by Federico Fellini. It is no coincidence, because in the film there are scenes from the 1000 Miglia, for how she was and how she remained, albeit reminiscent. The competition passed on the streets of the people, touched bars and arcades, cut across countryside and horizons. The cars ran alone, in an ancient noise, which then disappeared among the flying papers, leaving the silence and the countryside to bark. The memory is already there, in those moments of nothing that seem to chase each other like thoughts. The rest lived in the details, still beautiful today: the leather helmets, the goggles, the wheels
rays; that uncomfortable traveler, in two, often in the air, with a handkerchief tied around his neck. And then the women, yes, because they too watched the race, attracted by the stars of muscle and steel: for a local gossip that was about to be born.
The Mille Miglia passes on the road to our house and immediately becomes a memory: between the silence and the noise you are waiting for. "Amarcord", I remember; and photography is a valid witness.
Prizes:
1° CANON EOS RP
2° SONY RX 100 III
3° BENRO A19 + IB0
Eligibility:
everyone
Copyrights & Usage Rights:
Use of the material sent: All the images received will form a paper and virtual exhibition relating to the competition and its advertising. All the images received, winners, admitted and not, may also be used by the National Museum of Photography Cinefotoclub Brescia without profit for promotional purposes, information posters, posters, invitations, press releases and virtual exhibitions and projections. However, the authorship of the images will remain with the author who will always be made explicit.
Theme: