3rd Latin American Contemporary Fine Art Competition 2021
Enter now for a chance to exhibit in New York
Deadline: 12 January 2021
Entry fee: Digital Category: $25 entry fee for up to 5 images Classical Exhibition Category: $45 entry fee for up to 5 images
Submit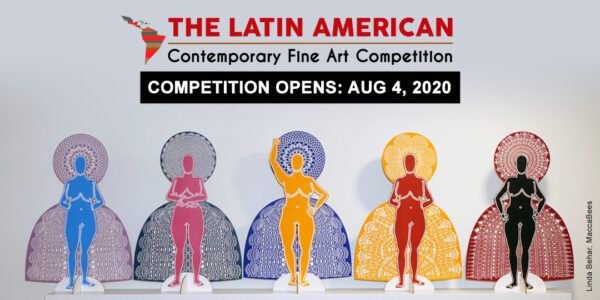 New York Art Competitions are pleased to announce the opening of the Latin American Contemporary Fine Art Competition. Fine artists from Latin America, the Caribbean, Spain, Portugal, the Latin American diaspora, and artists residing in any of the above, are invited to submit their works for a chance to be selected for promotional awards designed to boost their careers.
This year's awards include a participation in a collective exhibition in New York, an Art Fair, cash prizes and online promotion. Painting, drawing, sculpture, photography, digital, printing, and mixed media are eligible. All submitted artwork must be available for sale.
Art submitted to the competition will be reviewed by a rotating panel of expert jurors, each representing a different field in the art world, ensuring a fair and balanced selection process.
Prizes:
Collective Exhibition
Promotional Benefits
Art Fair
$500 prizes for 5 artists
Online Promotion
Eligibility:
The competition is open for Latin America, the Caribbean, Spain, Portugal, the Latin American diaspora, and foreign artists living and working in any of the above regions/countries.
Copyrights & Usage Rights:
All of the images submitted are original works of art created by you or are photographs created by an artist who authorized you to submit the images on his or her behalf. Images submitted by you do not violate the privacy rights, publicity rights, copyright or other intellectual property rights of any person or entity. You may not post, distribute, or reproduce, in any way, any copyrighted material, trademarks, or other proprietary information without obtaining the prior written consent of the owner of such proprietary rights. Without limiting our rights, it is our policy to terminate all relations with any artist who infringes copyrights upon our receipt of notice of infringement from the copyright owner or the copyright owner's legal counsel.
New York Art Competitions has the right to publish the images selected by the jurors on our websites and other advertising channels to promote your photographs and future competitions.
Theme: