3rd OLYMPIC PHOTO CIRCUIT 2015
4 salons,4 categories each,up to 16 photos,up to 64 acceptances!!!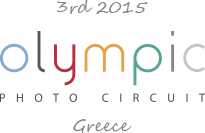 3rd Olympic Photo Circuit 2015, Greece.
The new photographic exhibition all-in-one photographic circuit with 4 salons and 4 categories each: Open Color, Open Monochrome, Nature and Travel, up to 16 photos per entrant, Up to 64 acceptances.
500+1 awards await the best photos!
Prizes:
500+1 awards await the best photos!
Gold, Siler, Bronze medals
HM's, Diploamas
Eligibility:
to any one
Copyrights & Usage Rights:
Author copyright
Each entrant owns the copyright of the submitted images. The entrant certifies the work as his own. The entrant permits the organizers to reproduce the entered material free of charge for promotional purposes related to the Circuit, like the catalogue, photo CD/DVD and the website, unless specifically stated otherwise by the entrant on the entry form.
Theme: