43 International Speleological Photography Contest
Speleology and its environment.
Deadline: 6 September 2020
Entry fee: Free
Submit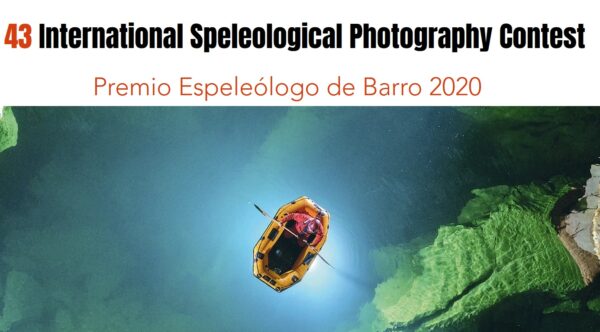 Welcome to a new edition of the Clay Speleologist awards for speleological photography.
It is our wish that this 2020, when our association reaches 50 years of existence, we can also celebrate the beginning of a new stage in the trajectory of this photographic competition which, for the first time in its four decades of history, we are presenting through a digital platform.
It has certainly taken some time of debate to make the decision to definitively adapt the competition to the digital reality. We do not want to give up on the idea that a photographer should exercise as much control as possible over his work, from the moment he decides to obtain the photograph to the moment it is developed for exhibition, because we all know how much a magnificent photograph can be distorted when, far from its author, it is mistreated by a poor screen or print when it is exposed to a jury or the photo-loving public. We are aware of this and we will work so that this last step, this final touch, is worthy of the great quality of so many works as those that have participated during these years.
We do not intend to admire the power that current tools have to illuminate a large space, or the difficulty of accessing certain environments more or less remote or dangerous, but the ability of the photographer to compose a suggestive image, alive, beautiful, which can transmit some of the infinite sensations that cause these underground worlds and that we feel those who have the fortune to know them.
It will be an honour to receive your photographs and to be able to share them with all those who wish to enjoy them; we encourage you to participate in the competition and in the exhibition.
Prizes:
• 1st prize: €800
• 2nd prize: €400
• 3rd Prize: €300
Two Commendations will also be awarded with 100 euros each.
Eligibility:
The competition is open to anyone who wishes to participate. Members of the organising association, collaborators and sponsors cannot participate.
Copyrights & Usage Rights:
The works selected and printed for exhibition may be reproduced in books, catalogues, magazines, posters or any other support for the promotion and dissemination of caving, without any lucrative rights for the organisers or third parties. The G. E. Ribereño guarantees that the name of their authors will always be cited, and that they will selflessly cede the reproduction rights for this purpose to the organisation of the competition.
Theme: