4th International Travel Photography Competition – The Human World
Submit 3 of your best travel photos to win the camera of your dreams!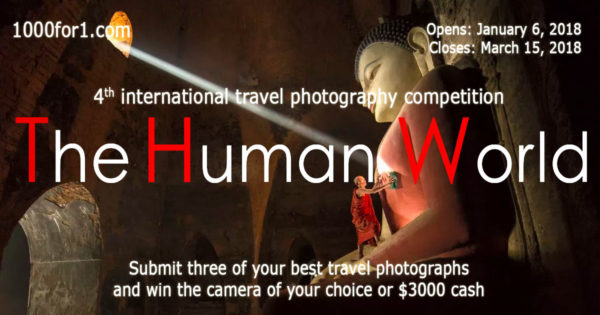 Professional and amateur travel photographers are invited to submit three of their best travel shots from around the world for a chance to win one outstanding camera of their choice or good old cash. The winner will be able to chose between a Nikon D850, a Sony a7rIII, a Canon 5D mark IV or $3000 cash.
This year's theme, "The Human World", would like you to investigate the human element in travel photography: it's a very broad theme that leaves you a lot of freedom, but natural landscapes (with no form of human intervention) and animals only this year won't cut it!
Hurry up! The number of participants is limited to 1000 so to give everybody a higher chance to win.
Prizes:
Either a Nikon D850, a Sony a7rIII, a Canon 5D mark IV or $3000 cash.
Eligibility:
Worldwide, 18+
Copyrights & Usage Rights:
COPYRIGHT:
The competition is run according to the guidelines set by the Artists' Bill of Rights.
Participants will retain copyright and moral rights in their works, no copyright is transferred to 1000for1 or its partners in respect of any Entry submitted or accepted, the copyright remains those of the Participant and/or any third parties from whom Participant has obtained permission to use the third party's material(s)
USAGE RIGHTS:
Images submitted to 1000for1 will be used solely for the purposes of the competition.
The Winning and Shortlisted Entries will be displayed indefinitely on 1000for1 website, as a record of achievement unless specifically requested otherwise by any successful Participant.
Where an Entry or Entries are reproduced by 1000for1 or its affiliates, the Participant will always be credited.
Theme:
Travel Aerial Architecture Black and White Cityscapes Culture Documentary Environmental Fine Art Nature Multi-categories Open Theme Photojournalism Urban Portrait People Other Street