4th Jeju International Drone Film Festival
The Jeju International Drone Film Festival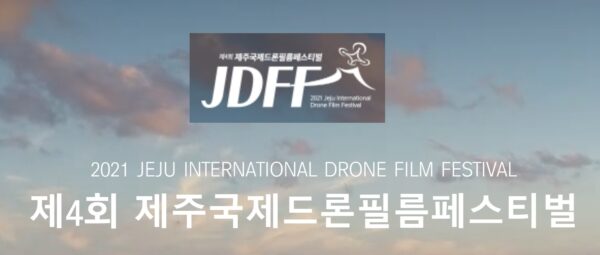 The Jeju International Drone Film Festival (JDFF), hosted by JIBS and supervised by the Jeju International Drone Film Festival Organizing Committee, is the first drone film festival in Korea. For works from all over the world, outstanding works are selected and awarded in each of six categories (DroneTact in Cityspace, Landscape, Dronography, Genre, Drone Still Photography, Short Film).
The video program will be screened at the Jeju International Convention Center (ICC JEJU) throughout the event period, and photographic works will also be displayed. In addition, through additional events such as drone talk and drone conference, we want to provide an opportunity to approach the point of contact between drones and video from various angles.
Jeju International Drone Film Festival intends to open up a forum in Jeju Island where drones can discuss the aesthetic, industrial, and socio-cultural possibilities that drones have brought and will bring in the production, distribution, and reception of video content.
Prizes:
PRIZE & AWARDS
There are amazing prize and awards that is ready for this festival. ONE (1) person from each category will be picked and awarded accordingly:
DroneTact in Cityspace: KRW 10,000,000
Landscape: KRW 6,000,000
Dronography: KRW 6,000,000
Genre: KRW 6,000,000
Drone Still Photography: KRW4,000,000
Short Film; KRW 3,000,000
Eligibility:
ALL
Copyrights & Usage Rights:
It is the sole responsibility of the Applicant to secure authorization and permission from the copyright owner(s) of all copyrighted content or materials
as well as any trademarked content or materials included within the submitted Film.
The Jeju International Drone Film Festival does not pay any fees for submitted work. If nominated, exhibition format digital files will be requested from the authors.
Theme: