5th Annual Mobile Photography Awards 2015
Open to all photographers worldwide.
Deadline: 3 December 2015
Entry fee: $20 for three (3) images, $30 for five (5) images, $50 for nine (9) images and $100 for twenty images. The MPA Photo Essay has it's own entry fee of $30.
Website: http://mobilephotoawards.com
Submit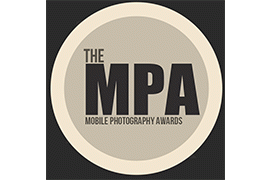 Over the course of five years, the Mobile Photography Awards has evolved into the world's largest annual event & competition of it's kind. MPA is open to all mobile phones and tablets. The MPA offers photographers and artists opportunities for exhibits, open gallery calls, fine art sales, and annual cash prizes. They giveaway amazing products and services, and more. As an organization, MPA has distributed nearly $60,000 directly to artists and photographers through cash prizes and fine-art sales.
Prizes:
Grand Prize winners receive $3000. The winner of the MPA Photo Essay is awarded $500.
Eligibility:
Open to all photographers worldwide.
Copyrights & Usage Rights:
Entrant retains 100% of the copyright to their images.
Theme: