9th International Landscape Photographer of the Year 2022
Showcasing the world's best landscape photography
Deadline: 21 October 2022
Entry fee: US$25 per entry - Every 5th entry is free until October 14
Submit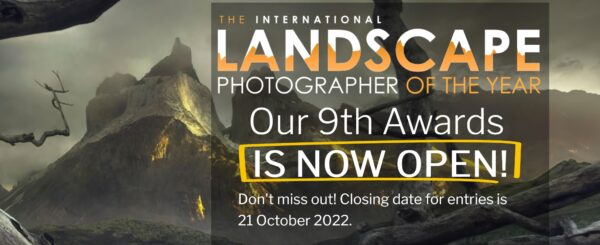 Showcasing the world's best landscape photography, we find the best 101 images each year and publish them in a hard cover book made by Momento Pro.
We trust you have been able to get out and about into the landscape over the past 12 months. As the world reopens, photographers are travelling again and we hope they're returning with some amazing landscape photographs!
And hopefully you're ready to share your best images with the 2022 International Landscape Photographer of the Year awards.
There's nothing more satisfying than seeing your photos published alongside the world's best. And the International Landscape Photographer of the Year Awards book is a real book - printed on paper and bound between hard covers, but of course, you can also see the wonderful flip-book presentations here on the website.
This is our ninth year of the International Landscape Photographer of the Year Awards and the main aim of our Award is to be one of the Top 101 landscape photographs of the year. This gives you a place in our exclusive book which is published online and can be purchased as a 'real' hard-cover paper publication as well (it's proudly printed by Momento Pro in Australia and we will have options for readers outside of Australia this year as well).
Prizes:
There is a total of US$10,000 in cash prizes, printed copies of the book from Momento Pro for the major prize winners, NiSi filter outfits and Fotopro tripods (see the rules for full details). And there are five special subject prizes winning a print from Created For Life!
We also receive tremendous international media exposure for the winners and top 101 entrants.
Eligibility:
Worldwide, no age restrictions, professional or amateur, landscape photography
Copyrights & Usage Rights:
We acknowledge that the entrant retains full ownership of the copyright in each Entry.
All Entrants agree that any Entry submitted to the competition may be used by the Organiser, and its Event Partners (e.g. Momento Pro, Created for Life and NiSi Optics) for the purposes of judging the Competition, and marketing and promotional purposes of the Competition.release in such circumstances upon being contacted.
Theme: