INTERNATIONAL EXHIBITION PHOTO ⭕️ CIRCLE. 2021
INTERNATIONAL EXHIBITION PHOTO ⭕️ CIRCLE - PSA AND IAAP RECOGNISED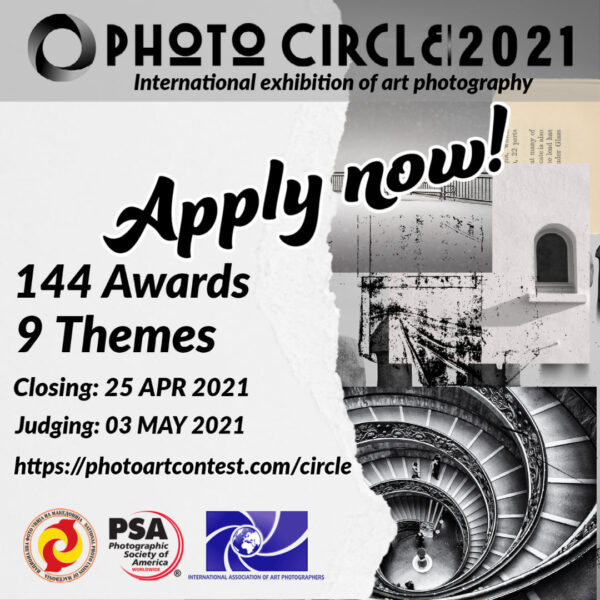 The International exhibition of art photography CIRCLE is an exhibition of art photography organized by Photo Art Group Prilep, North Macedonia.
Entries must originate as photographs (image-captures of objects via light sensitivity) made by the entrant on photographic emulsion or acquired digitally. By virtue of submitting an entry, the entrant certifies the work as his own (aliases are not permitted). The entrant permits the sponsors to reproduce all or part of the entered material free of charge for publication and/or display in media related to the exhibition. This may include low resolution posting on a website. Note: Entrants who indicate that their images may not be reproduced or used "will not be eligible for awards" or inclusion in audio-visuals of the exhibition "and could be subject to disqualification" by the exhibition sponsors.
The contest is divided into the following sections:
A. OPEN PIDC
B. OPEN PIDM
C. NATURE ND
D. PHOTOJOURNALISM PJD
E. TRAVEL PTD
F. PORTRAIT PIDC
G. WILDLIFE ND
H. ARCHITECTURE PIDC
I. STREET PTD
JURY:
Barbara Schmidt (Germany) (Sections A ,B ,C ,D ,E ,F ,G ,H and I)
Ana Joveva (North Macedonia) (Sections A ,B ,C ,D ,E ,F ,G ,H and I)
Dao Tien Dat (Vietnam) (Sections A ,B ,C ,D ,E ,F ,G ,H and I)
Prizes:
9x PSA Gold, 18 ribbons;
9x IAAP Gold, 9x Silver, 9x Bronze medals, and 27 ribbons;
9x NPUNM Gold, 9x Silver, 9x Bronze medals, and 27 diplomas;
9 Salon diplomas;
Eligibility:
PHOTO CIRCLE exhibition is a photographic contest open to professional and non-professional photographers from all around the world.
Copyrights & Usage Rights:
By entering this contest, you are explicitly consenting to the personal details you have supplied, including email addresses, being held, processed, and used by the contest organizers for purposes associated with this contest. You also explicitly consent to such information being sent to organizations that have accorded official recognition, patronage, or accreditation to this contest. You acknowledge and accept that entering this exhibition means that the status and results of your entry may be made public.
Theme:
Open Theme Nature Photojournalism Travel Portrait Wildlife Architecture Street