Aesthetica Art Prize 2018
£5,000 prize money for the winner
Deadline: 31 August 2018
Entry fee: You may enter up to two works per entry fee, unless you are entering into the Video, Installation & Performance category, in which case you may submit one work per entry fee.
Submit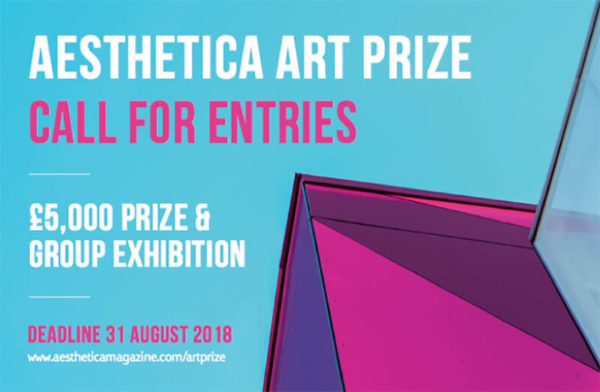 Hosted by Aesthetica Magazine, the Aesthetica Art Prize is a celebration of excellence in art from across the world. It offers both emerging and established artists the opportunity to showcase their work to a wider audience, and further their engagement with the international art world. The Judging Panel enhances its position in the industry, bringing together specialists from leading cultural institutions.
The award attracts thousands of entries in a range of innovative media from locations as diverse as Australia, Germany, India, Japan, Malaysia, the Netherlands, the UK and the USA. Recent finalists include acclaimed director Toby Dye; Tokyo-based French architect and artist Emmanuelle Moureaux; Rachel Ara, founder of the artists collective [ALLOY], whose work is being exhibited at the V&A, Barbican Centre and Whitechapel Gallery; Liz West, recipient of the Royal British Society of Sculptors Bursary Award; and Ellie Davies, who has since shown new and recent works in the exhibition Into the Woods at Crane Kalman, London.
Prizes:
There are two awards for entry: the Main Art Prize and the Emerging Art Prize. The Main Art Prize is open to all, including those eligible for the Emerging Art Prize.
£5,000 prize money for the winner
Group exhibition hosted by Aesthetica
Editorial coverage in Aesthetica Magazine
Publication in Future Now: 100 Contemporary Artists
£250 art supplies vouchers courtesy of Winsor & Newton
Art books courtesy of Prestel
Eligibility:
The Main Art Prize is open to all, including those eligible for the Emerging Art Prize.
Copyrights & Usage Rights:
-
Theme: