Agrilinks Announces 2018 Photo Challenge
The Agrilinks 2018 Photo Challenge
Deadline: 20 December 2018
Entry fee: Free
Submit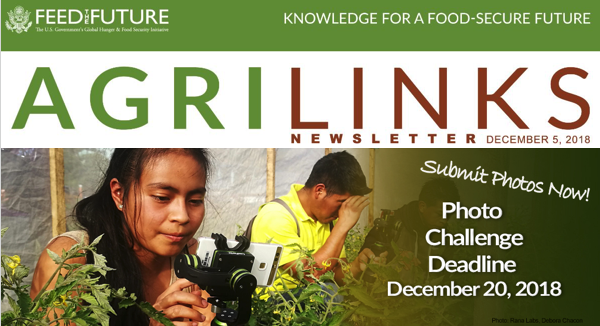 Do you have great photos depicting global agriculture and food security that you want to share with the development community? We want to hear from you!
The Agrilinks 2018 Photo Challenge, open to all, is a great opportunity to share your work or that of your organization with our community of 15,000 food security and ag practitioners.
Each entrant may submit up to 10 images complying with the contest requirements and rules (entries not adhering to them will be disqualified, so study them before submitting!). Entries will be judged on relevance to one or more Agrilinks topic areas, composition, originality and technical quality. One winner will be selected overall in addition to winners chosen for each topic area, through a combination of an Agrilinks judging panel to select finalists and a social media crowd vote to select winners. Winning photos will be announced in mid-January, subsequently featured in Agrilinks communications and highlighted on the website's topic pages.
We're especially looking for photos depicting resilience, policy and governance, and monitoring, evaluation and learning, so we'd love to see a good showing in these categories.
All entries should be submitted via this online submission form by December 20. For any questions or issues, contact the team at agrilinks@agrilinks.org (link sends e-mail).
Prizes:
Featured photos on Agrilinks.org and shared with the global development community.
Eligibility:
Open to all
Copyrights & Usage Rights:
Original or organizational photos. Must have credit. Photos may be used by Agrilinks on website or on social media.
Theme: