Amateur Photographer of the Year 2016
Prizes each month of around £1,000.
Deadline: 31 October 2016
Entry fee: Free
Submit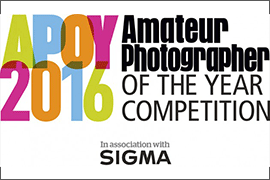 Over the years, AP readers have sent us some incredible images, so 19 years ago we decided to launch the Amateur Photographer of the Year competition in its present format to showcase all their hard work. Since then, APOY has received thousands of entries, with many of them taking the judges' breath away.
APOY 2016 follows the same format as last year, with eight monthly rounds from March until October. The competition is open to all amateur photographers, but please note that those entrants who live outside the UK who win a prize will be liable for any local customs charges.
After the closing date of each round, the entries are narrowed down to a shortlist of 50, then the top 30. Points are awarded to each image for creativity, technical excellence and how well the image fulfils the brief.
Judges are looking for imaginative and well-executed pictures that explore the theme in an exciting way. The names of the top 50 photographers from each round appear on our website, along with the images from the top 30. The top 30 images are also published in AP at the end of the following month. After the eight rounds, the person with the most points will be crowned Amateur Photographer of the Year 2016.
Prizes:
Prizes are awarded to the first-placed entrants for each round. This year we have great Sigma lenses, cameras and accessories on offer, worth a total each month of around £1,000. We also have a top prize of Sigma 24mm f/1.4 DG HSM Art (£799.99), Sigma 50mm f/1.4 DG HSM Art (£849.99) and Sigma 105mm f/2.8 EX DG OS HSM Macro (£649.99) lenses worth more than £2,000. That's a grand total of over £10,000 for APOY 2016 in association with Sigma.
Eligibility:
Entrants may submit only one photograph per month, as an sRGB JPEG file that is 2700-3000 pixels along its longest dimension, an unmounted print (max size 210 x 297mm) or slide (no glass mounts please), in colour or black & white.
Copyrights & Usage Rights:
Copyright of all entries remains with the photographer, but Time Inc (UK), Sigma and their associated group companies reserve the right to use, publish and republish entries in connection with the competition, without payment.
Theme:
Abstract Architecture Landscape Nature Portrait People Street