ANIMAL BEINGS
Exhibit your work at Praxis Gallery!
Deadline: 15 June 2022
Entry fee: $35.00 for submission set of 5 images. $5.00 for each additional image. Praxis Members receive 10 images for the price of 5 images. Payment is accepted by Credit / Debit Card through our secure online submission site. The entry fee for submissions is non-refundable. Receive Praxis Member Benefits. Learn more here: https://www.praxisphotocenter.org/memberships * In addition to keeping our entry fees low for all artists, Praxis also has a limited number of free entries for artists experiencing financial hardships. Please contact info@praxisgallery.com for more information.
Submit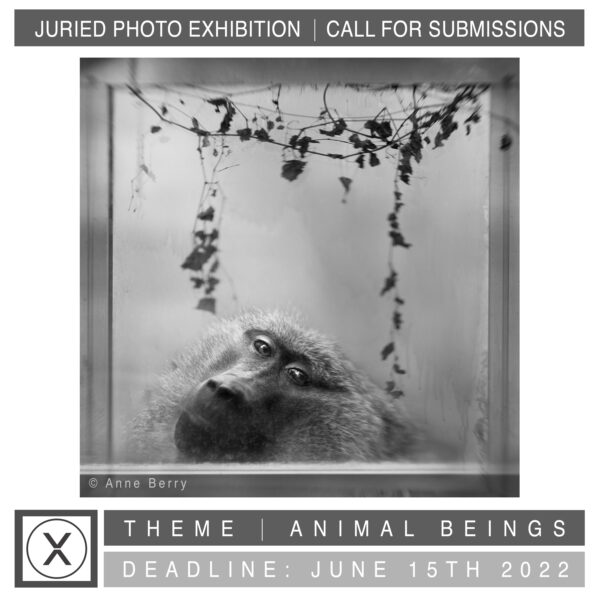 This exhibition is a celebration of the astonishing beauty and diversity found in the animal world. Praxis Gallery seeks the submission of photographic works that showcase animals' inner beauty, strength, character, resiliency, and wisdom. Compassionate images of companion animals, wild animals, farm animals, insects, and fish are all heartily welcomed.
Praxis Gallery seeks the submission of photographic works that show us the very best of your furry, scaly, feathery photographs! Images that showcase violence or inhumane treatment will not be considered. All genres, capture types, black & white and color, traditional and non-traditional processes, and digital post-production are all welcome for submission.
GUEST CURATOR: ANNE BERRY
Anne Berry is internationally recognized for her ability to create lyrical, intimate portraits of animals. Since 2010 she has traveled to small zoos in Europe to visit and photograph primates. Her portraits reveal the unique personality of each of these animals. Jane Goodall describes the photographs as "wonderful, very moving, should melt a few hearts." This project culminated in a folio published by 21st Editions, which is held in museum and library special collections, including The National Gallery of Art. Berry published Behind Glass, 2021 to make the project accessible to a wider audience. It is Berry"s goal to motivate people to feel compassion for primates and an obligation to protect them. Most of the primates she photographs qualify as endangered, and all of them are facing stress from loss of habitat and human activity. The plight of primates on earth is urgent; our indifference will condemn them to extinction, and we will follow. These photographs provide a voice for primates, and they are asking for help.
Prizes:
Up to 36 Images will be selected by the juror for exhibition at Praxis Gallery. One Curator's Choice and three Honorable Mentions will be awarded and featured in the exhibition, the printed show catalog, and the online exhibit gallery. Curator's Choice will receive free entry into three juried calls for entry of their choice and a complimentary exhibit book.
Eligibility:
International, all accepted.
Copyrights & Usage Rights:
Artist retains all copyrights to their own images. The artist's name and photo title will be included wherever the photographs are displayed. Artists whose photographs are accepted for exhibition grant Praxis Gallery the nonexclusive right to use, print, and reproduce submitted digital files for the purpose of the exhibition, promoting the artist, promoting related programs and subsequent display on Praxis Gallery's website, social media, and online exhibition archives.
Theme:
Wildlife Portrait Other Open Theme Nature Multi-categories Macro/Micro