ART CALL TO PHOTOGRAPHERS and ARTISTS – WINTER IMAGINATION 2019
ART CALL TO ARTISTS AND PHOTOGRAPHERS – WINTER IMAGINATION 2019
Deadline: 11 March 2019
Entry fee: Entry Fees: $20.00 for the first image, $10.00 each additional image
Submit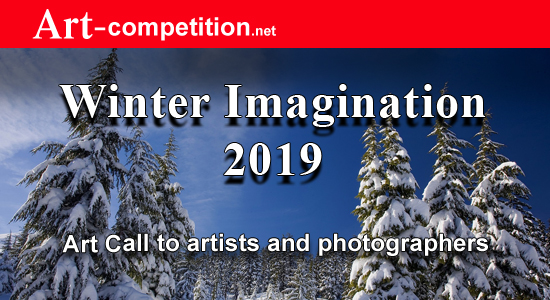 Art-Competition.net is proud to announce the Art Call Winter Imagination 2019. There will be 5 Winners and 10 Honorable Mentions. This competition is open to all artists and photographers worldwide. The participant can submit any still art medium, including: painting, drawing, collage, photography, digital art, and fiber art.
Total Awards in Cash and Art Marketing Prize Value: $8,000.00.
Theme and Selection:
"Winter Imagination 2019" can be interpreted broadly and based on real or imagined circumstances. Perhaps the first fallen snow of the season inspires you to imagine a vivid red cardinal against the stark white snow-covered branches of an evergreen tree overlooking the beauty of a frozen-over pond with rolling hills as a backdrop. Or maybe a more ominous scene is visualized inspiring the artist to present a work of art that tells a dark and melancholy story without uttering a word. "Winter Imagination" is anything that inspires the artist to portray a winter theme and tell a story in his or her artwork through visual concepts.
Submit Your Art:
http://Art-competition.net/registration/registration.cfm?artcontest=Winter_Imagination_2019
Prospectus:
http://art-competition.net/Contest_Information.cfm?CIP=Winter_Imagination_2019
Prizes:
First Place: $1000.00 in Cash and the artist is presented as a "Featured Artist" in the "InternationalArtistDirectory.com" that is marketed to over 32,000 art buyers = Value $1,500.00. The winner's artwork will also be marketed in an email marketing campaign "Art Market NewsTM" and website http://artmarketnews.net with over 32,000 subscribers = Value $3,500.00. The artist and their work will be marketed through our social media-marketing network through LinkedIn, Tumblr, Tweeter, FaceBook, GooglePlus, Instagram, etc.
Total first place prize value = $6,000.00*
Second Place: $300.00 in Cash and the artist will be featured as a "Notable Artist" in the "InternationalArtistDirectory.com" that is marketed to over 32,000 art buyers = Value $1,500.00.
Total second place prize value = $1,800.00*
Third Place: $125.00 in Cash*
Fourth Place: $50.00 in Cash*
Fifth Place: $25.00 in Cash*
Eligibility:
This competition is open to all artists/photographers 18 years of age or older. Submissions for consideration can be expressed in any of the following aspects: representational, expressionism, surrealism, or abstract
Copyrights & Usage Rights:
http://art-competition.net/Contest_Information.cfm?CIP=Winter_Imagination_2019
Theme: