Art in Nature Photo Festival
Eighth annual Art in Nature Photo Festival
Deadline: 10 August 2018
Entry fee: Ward Members $15 for first 3 photos, Non-Members $20 for first 3 photos, Youth first photo free; $3 each additional photo up to 10 photos
Submit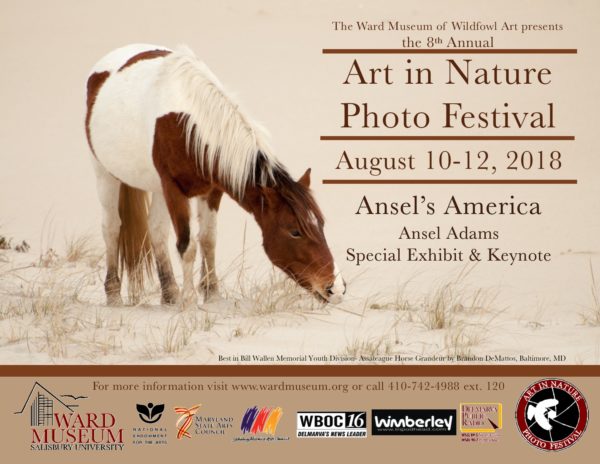 Eighth Annual Art in Nature Photo Festival
Salisbury, MD--- The Ward Museum of Wildfowl Art, Salisbury University, will host the eighth annual Art in Nature Photo Festival on August 10-12, 2018. Photography enthusiasts are invited to show their creative side during the three-day event which includes a keynote lecture.
A highlight of the weekend will be Ansel's America: An Ansel Adams Special Exhibit with a keynote presentation by Ken Basile on Friday evening at 6 p.m. in the Museum's Legacy Center, there will be a VIP reception starting at 5 p.m. The lecture will be on the work of Ansel Adams and several other noted nature photographers. In addition, the photography of Ansel Adams will be on display starting with the VIP reception and will run until 5 p.m. on Sunday, August 12, 2018. Admission wristband to the VIP reception, keynote lecture, and seminars throughout the weekend is $7 for adults and $5 for seniors and students (K-12) and free to Museum Members, SU, and Competitors. Admission to the galleries is free the month of August, which includes the gallery showcase of Art in Nature photo entries, thanks to sponsor Value Carpet One.
Participants may compete in the photo competition in either the professional, amateur or youth divisions and may enter photographs in any of six categories:
• Birds
• Plants and animals other than birds
• Landscape/scenery
• Black and white
• Nature Macro\Micro photography (amateur & youth only)
• Smart Device (amateur & youth only)
Rules, entry fees, and competition details are available online at www.wardmuseum.org. Youth photographers may enter one photo free thanks to the Bill Wallen Memorial Fund.
Photographers compete not only for bragging rights, but also for their chance at top prizes, which includes cash, gift certificates, and photo accessories.
Lectures, seminars and workshops are offered throughout the weekend, as well. These learning opportunities are suited for photographers of all skill levels, from beginner to advanced, and touch on a wide range of topics.
For a complete listing of activities, hotel packages, competition rules and prizes visit the Ward Museum website at www.wardmuseum.org or call 410-742-4988, ext. 106.
Prizes:
Grand Champion:
- Rosette
- $750
- Wimberley Full Gimbal Tripod Head
- One year membership to the Ward Museum
- Four copies of Ward Museum journal
Eligibility:
Open to everyone
Copyrights & Usage Rights:
Intellectual Property Rights: Photographers retain all their rights to any photograph entered into the competition and show. However, all entrants or their parent or guardians by entering an image grant the Ward Museum a royalty-free, non-exclusive right to:
• To display the photograph in its galleries from Friday, August 10, through Sunday, August 12, 2018.
If an entered photograph wins Best in Show or first, second, or third in any category of any division, you or your guardian grant the Ward Museum, by acceptance of the award, ownership of the submitted print and a high-resolution digital copy of the image (to be provided by you to the Ward Museum by August 31, 2018) and royalty-free, non-exclusive rights to:
• Display the photograph in its galleries and on its websites and use the photograph in any of its educational programs, publications, fund-raising, advertising, e-mails, social media outreach efforts, and other activities;
• Allow third-parties to share the photograph on social media;
• Provide your photograph to other individuals and organizations for Ward Museum related use in news stories, newsletters, reports, slide shows, displays, web pages, videos, and other; and
• Use your name, city, and state in promotions and other activities in connection with any of the above activities,
• Best in Show, Best in Division, People's Choice, i.e. any first place winning printed photograph will remain at the Ward Museum and be added to the Museum's collection.
The Ward Museum will endeavor to credit all photographs with your full name and copyright date except for winning photographs. The name, city, and state of a winning entry in the Youth division will be requested from a parent or guardian before publishing the name of any Youth division winner.
Theme:
Nature Black and White Landscape Multi-categories Wildlife Macro/Micro