14th ARTE LAGUNA PRIZE – OPEN CALL FOR PHOTOGRAPHIC ART
OPEN CALL FOR PHOTOGRAPHIC ARTISTS
Deadline: 27 November 2019
Entry fee: Over 25: 100€/ UNDER 25: 80€
Submit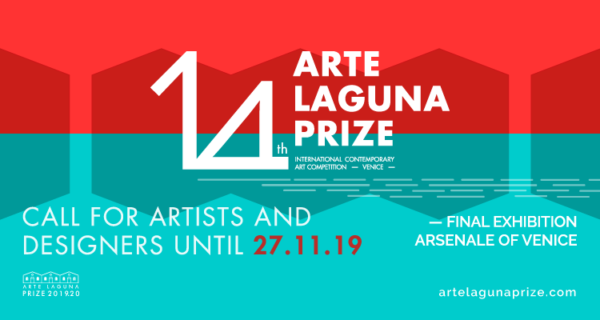 Entries are open for the 14th edition of Arte Laguna Prize, the world's most influential competition for emerging artists and designers, which showcases and promotes creative talents.
With fourteen years of history, Arte Laguna Prize gives the opportunity to join a huge network of collaborations worldwide, exhibit in the breathtaking location of the Arsenale of Venice, win cash prizes of a total amount of 40.000 euro and much more.
EXHIBITION OF THE 120 FINALIST ARTISTS IN THE ARSENALE OF VENICE March 21st – April 13th, 2020. In addition, a selection of works will be exhibited in 2021 at MMOMA - Moscow Museum of Modern Art.
The Prize is open to the following artistic disciplines:
painting, sculpture and installation, photographic art, video art and short films, performance, virtual art, digital graphics, land art and urban art, art design.
Prizes:
THE PRIZES:
- 4 cash prizes of € 10,000 each
- 1 important exhibition at the Arsenale of Venice
- 2 solo exhibitions in international Art Galleries
- 2 collaborations with Companies
- 6 Art Residencies in Italy, Russia, Spain, India, Mauritius
- 1 Prize Sustainability and Art dedicated to the Reuse of aluminium packaging
- 2 international Festivals
- publication in the official catalogue
- free visibility on Arte Laguna World
Eligibility:
No restriction based on gender, nationality or age.
Copyrights & Usage Rights:
Arte Laguna Prize and MoCA Cultural Association
Theme: