Arteche IV photo contest
Reflect the impact of the electric power on your daily life!
Deadline: 15 October 2018
Entry fee: Free
Submit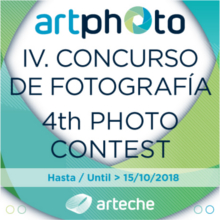 Following a successful third edition in which were submitted more than 80 photographs from all over the world, ARTECHE Group would like to extend you an invitation to the 4th artPhoto Photography Contest
The four photographs which, in the jury's view, best reflect the usage and impact of electric power in each category will be awarded as follows:
Polaroid Snap Touch: Snap, Print and Share instantly.
One award in each category:
1. Life and power: these should be reflective of the impact of electric power in the daily life of people and society, its influence in daily occurrences of each one of us in any possible view: how electricity offer us light, warmth, how it moves us or how it part of our entertainment.
2. Infrastructure and electric equipment: the impact of power in our life would be impossible without the needed infrastructure and equipments generation, transmission and power distribution which permits us to use it in our advantage and which mold our landscapes.
3. ARTECHE products: compositions including any ARTECHE product.
4. Electric framework: this category should represent how deep is the fit regarding professionals of electric sector and their companies
Prizes:
Polaroid Snap Touch: Snapp, print and share instantly
Eligibility:
over 18
Copyrights & Usage Rights:
It is necessary for all photographs to be identified jointly with their author's data (name, surnames and contact details) plus those of the work itself (title or corresponding place and product).
Photographs not accompanied by these details shall be excluded from the competition. ARTECHE Group will not save or use the personal details of any of the participants, except for those required for identification of the work and contact the contestants after the outcome of the present competition.
All the competitors grant ARTECHE Group the license to disseminate and use their photos in the company's corporate and commercial dissemination
platforms. Awarded photographs will be sole property of ARTECHE Group and the author commits to not using said photograph in any other competition or means of dissemination which are not his or her own web pages or social networks.
The contestant must guarantee the authorship of the submitted work and will be held entirely responsible of any pursued claims of image rights, keeping
ARTECHE Group harmless of any all liabilities arising from a third party's suit or action for failing to comply with that guarantee.
Theme: