Athens Photo Festival 2016
Theme [mis/dis]placed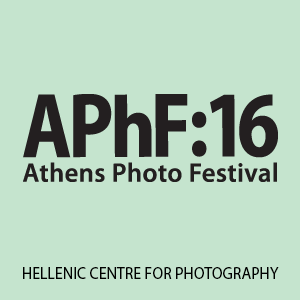 Athens Photo Festival is the leading international festival of photography and related media in Southeastern Europe. Exploring critical issues relevant to our times, the festival attempts to bring together a range of different perspectives from emerging and established artists and photographers from all over the world with the aim to raise awareness and foster an understanding of contemporary culture and society through photography in all its forms.
The 2016 main programme will take place during the months June and July 2016. The exhibition programme will be comprised of a series of solo and group exhibitions, presenting a wide spectrum of works selected through an international open call for proposals in combination with invited artists. At the core of the festival is a range of events, including portfolio reviews, screenings, talks and discussions, workshops, and various participatory and ephemeral projects.
This year's main theme, under the title [mis/dis]placed, is aimed at investigating how collective consciousness and individual perception and position are shaped, in relation to the fast-changing global situation, intertwining both politics and poetics. In particular, it is interested in raising questions about the prevailing notions of place and memory as fundamental elements of identity formation while reassessing the role that the means of visualizing can play within these concepts.
Athens Photo Festival is a member of the European Month of Photography (EMoP), a network comprised of photography festivals in 8 European capitals that aims to foster collaboration on joint projects within a European framework.
Prizes:
Exhibition and catalogue.
Eligibility:
International / 18+
Copyrights & Usage Rights:
Copyright of the images remains with photographers/artists.
Images will be used strictly in connection to the promotion of the festival.
Theme: