Australian Geographic Nature Photographer of the Year 2021
Overall winner wins A$10,000 cash, and a holiday prize generously prov
Deadline: 5 February 2021
Entry fee: A$38.00 (includes GST) for the first image and A$22.00 (includes GST) for each subsequent image
Submit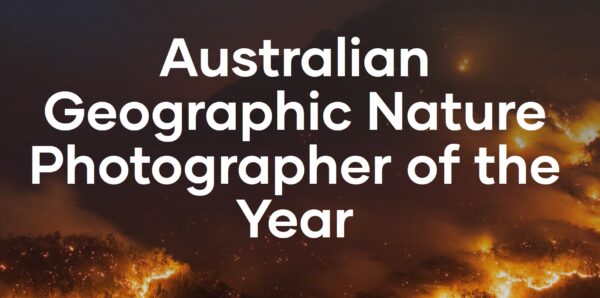 The Australian Geographic Nature Photographer of the Year competition celebrates the natural heritage of the Australia, New Zealand, Antarctica and New Guinea bioregions each year.
Photographers from around the world are invited to submit their nature and wildlife photographs from the bioregion of Australia, New Zealand, Antarctica and the New Guinea. For the purposes of this competition the region of New Guinea is limited to the west by the Wallace Line (the bio-geographical line extending between Bali and Lombok northward through the Makassar Strait between Borneo and Sulawesi). To the east the New Guinea region includes the Bismarck and Solomon Archipelagos and islands of the South West Pacific, with its eastern boundary formed by the International Date Line. Antarctica includes the Sub-Antarctic Islands, which for the purposes of this competition are those south of the Antarctic Convergence or Antarctic Polar Front.
Every year the finalist entries are included in an exhibition developed by the South Australian Museum. The stunning beauty of our natural world is placed on display, with professional, emerging and junior photographers alike showing impeccable timing, patience, artistry and technique to capture superb moments in time.
The Competition's sections are:
- Animal Behaviour
- Animal Portrait
- Botanical
- Landscape
- Threatened Species
- Monochrome
- Our Impact
- Animal Habitat
- Junior
Prizes:
Overall winner wins A$10,000 cash, and a holiday prize generously provided by Coral Expeditions.
Other prizes:
each of the first 8 category winners receives A$1,000 and the runner-up of each section receives A$500;
there is a A$1,000 prize for the best portfolio of six or more entries;
the Junior category winner receives A$300 and the runner up receives A$100; and
the People's Choice winner receives A$500. (People's Choice is voted by visitors to the exhibition at the South Australian Museum, announcement date TBC).
Eligibility:
Entry into the Competition is open to all persons
Copyrights & Usage Rights:
Each Entrant warrants to the Organiser and AG that each Entry is an original artistic work of the Entrant which does not infringe the rights, including copyright and privacy rights, of any third party. Each Entrant agrees to indemnify the Organiser and AG against all costs or loss suffered as a result of any claim by a third party arising from a breach of the warranty set out in this rule.
Theme: