Best Portfolio 2019 by Blank Wall Gallery
The best portfolio will be exhibited totally free for 2 weeks
Deadline: 19 May 2019
Entry fee: €50
Submit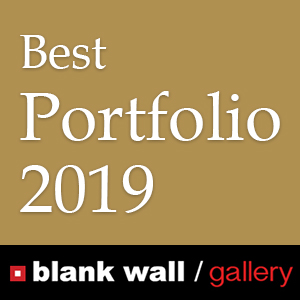 Best Portfolio 2019
Blank Wall Gallery organizes an international portfolio contest for 2019 in order to discover and promote one photographer. The award of the best photographer will be a two-week solo exhibition at Blank Wall Gallery. The gallery will produce and finance the prints for the exhibition, and the artist will gain international recognition and promotion from our web page. (A prize worth over €2,000)
Prizes:
he award of the best photographer will be a two-week solo exhibition at Blank Wall Gallery. The gallery will produce and finance the prints for the exhibition, and the artist will gain international recognition and promotion from our web page. (A prize worth over €2,000). The artist will be able to present up to 36 photographs.
Eligibility:
All photographers, amateurs and professionals who are over 18, are eligible to participate to the contest.
Copyrights & Usage Rights:
1. The exhibition will be presented on the Blank Wall Gallery web page as is the case with all the solo exhibitions.
2. Blank Wall Gallery will produce the prints the artist will choose for the exhibition, with a maximum of 36 photographs, in our printing labs, completely free of charge.
3. Newsletter and invitations for the opening night will be sent to all the contacts of the gallery.
4. Personalised Press Release will be sent to magazines so that the exhibition gains exposure.
5. The winner will be awarded a Certificate of achievement by Blank Wall Gallery.
6. A free submission for the next Best Porfolio competition will also be given to the winner.
7. At the end of the exhibition Blank Wall Gallery will create a detailed folder with publications, photographic material from the exhibition, posters and any other material and will send it to the artist.
Theme:
Aerial Architecture Black and White Cityscapes Conceptual Digital Art Environmental Fine Art Landscape Multi-categories Nature Open Theme Panoramic People Portrait Seascapes Street Travel Underwater Urban Wildlife