Bio-Art Contest 2016
International Bio-Art Contest / Total $10,000 cash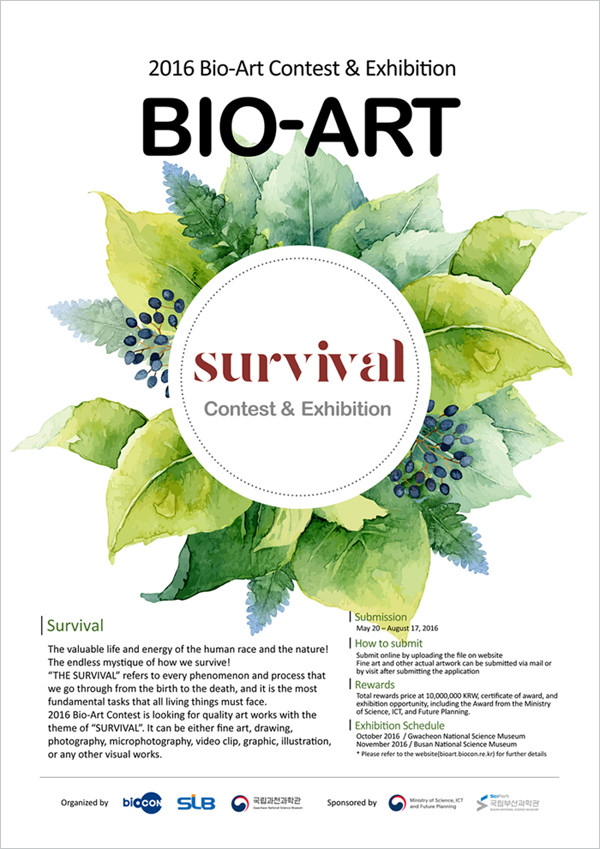 The valuable life and energy of the human race and the nature! The endless mystique of how we survive!
"THE SURVIVAL" refers to every phenomenon and process that we go through from the birth to the death, and it is the most fundamental tasks that all living things must face.
Bio-Art Contest 2016 is looking for quality art works with the theme of"SURVIVAL". It can be either fine art, drawing, photography, microphotography, video clip, graphic, illustration, or any other visual works.
Prizes:
Total rewards price at 10,000,000 KRW (about $10,000), certificate of award, and exchibition opportunity, including the Award from the Ministry of Science, ICT, and Future Planning. There will be 6 winners and 20-30 honorable mentions.
Eligibility:
Any
Copyrights & Usage Rights:
The 6 main prize-winning works belong to the host institution.
The entrant agrees to allow Bio-Art contest to use the works for promotional purposes without further compensation.
Theme: