SINWP Bird Photographer of the Year 2019 in aid of RSPB
This is your chance to showcase your talent and help raise funds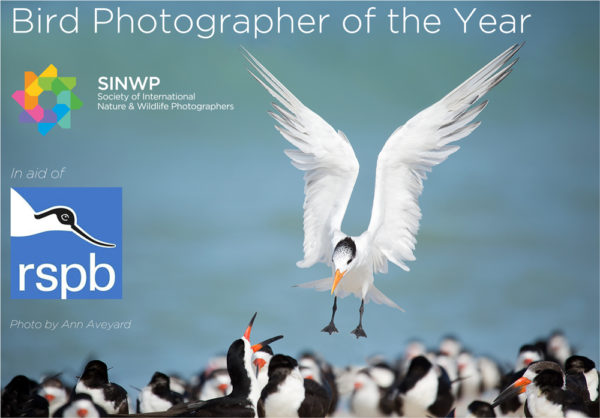 If you love taking pictures of birds then we invite you to enter the SINWP Bird Photographer of the Year 2019 Competition and help raise vital funds for The Royal Society for the Protection of Birds (RSPB).
This is your chance to showcase your talent and help raise funds in aid of the RSPB.
A minimum donation of £1 per image is requested and 100% of the donations will go straight to the RSPB to help them protect wildlife and the wider countryside you love.
Prizes:
SINWP Bird Photographer of the Year 2019 Trophy and Certificate
Website Build Service for new customers and 6 months Pro package with theimagefile (valued at £270 +VAT.) - Sponsored by theimagefile
Anthropics Collection photo editing software (valued at £209.95) - Sponsored by Anthropics Technology Ltd
An acrylic print of the winning entry 30x24" (valued at £174) - Sponsored by Sim Frame
Permajet Portrait White 285 A3 (25 sheets) (valued at £63.95) - Sponsored by Permajet
Permajet Snapshut Folio - A3 Landscape, Leather, Cream, 25mm Spine (valued at £57.95) - Sponsored by Permajet
£75.00 + VAT Cotswold Mounts - Sponsored by Cotswold Mounts
£50 voucher to Park Cameras - Sponsored by Aaduki Multimedia Insurance
Tasco 10x25 Binoculars (valued at £15)
One year Free Professional Membership to SINWP- which includes: entry to all of our membership only competitions - unrestricted access to our members' photography forum - access to our members only Facebook group - listing on our directory - qualifications and distinctions through submission of images - the winner will also receive our magazine Professional Imagemaker for 12 months (valued at £120)
Eligibility:
Open to all
Copyrights & Usage Rights:
Copyright of the images remains with the photographer - The Societies recognises that the entrant, the author of the photograph, retains complete and full ownership of the copyright in each submission
Entries can be used for publicity purposes only by The Societies and may be printed in our magazine Professional Imagemaker, also promotional purposes.
Theme: