Black and White photo contest
People Places Things
Deadline: 1 June 2016
Entry fee: $5
Submit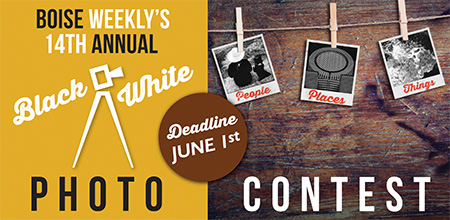 Boise Weekly's 14th annual Black-and-White Photo Contest - People, Places, Things.
You have until Wednesday, June 1 to submit your best non-color shots on the themes of People, Places and Things. The winner will be published on the cover of the Wednesday, June 15 edition of BW and entered in the annual BW Cover Auction. You can submit as many entries as you want—at $5 per entry—but you'll have to do so one at a time.
Our entry process will be conducted digitally. Upload your pieces to bwphotocontest.boiseweekly.com and they'll be voted on between Thursday, June 2 and Sunday, June 12 to select a People's Choice winner. On the website you'll find submission information, be able to view the current entries, vote on your favorites and see the winners. The top spots will be selected by a panel of judges, to be announced. The winner picked for the cover will be required to provide a high-resolution copy of the image.
Prizes:
all entry fees go towards prizes.
Eligibility:
must reside within 60 miles of Boise Idaho
Copyrights & Usage Rights:
Boise Weekly reserves the right to restrict the local winners to only persons whose primary residence is within a 60-mile radius of the affiliate's' office.
Contest entrants agree to abide by the terms of these Official Rules and by the decisions of the contest commissioners, which are final on all matters pertaining to the contest.
Entrants further grant to Boise Weekly the right to use and publish their proper name and state online and in print, or any other media, in connection with the Contest.
Boise Weekly reserves the right to use any and all information related to the Contest, including information on contestants obtained through the contest, for marketing purposes or any other purpose, unless prohibited by law.
The Contest and all of the related pages, contents and code are copyright, UPICKEM, and/or Boise Weekly. Copying or unauthorized use of any copyrighted materials, trademarks or any other intellectual property without the express written consent of its owner is strictly prohibited.
Each winner, by acceptance of the prize, agrees to release all Sponsors, and their parent and subsidiary companies, their officers, directors, employees, agents, shareholders, affiliates, suppliers, distributors, and advertising agencies from all liability, claims, or actions of any kind whatsoever for injuries, damages, or losses to persons and property which may be sustained in connection with the receipt, ownership, or use of the prize.
Theme:
People Conceptual Landscape Nature Wildlife Multi-categories