BLACK & WHITE
Exhibit your work at Praxis Gallery!
Deadline: 30 September 2022
Entry fee: $35.00 for submission set of 5 images. $5.00 for each additional image. Praxis Members receive 10 images for the price of 5 images. Payment is accepted by Credit / Debit Card through our secure online submission site. The entry fee for submissions is non-refundable. Receive Praxis Member Benefits. Learn more here: https://www.praxisphotocenter.org/memberships
Submit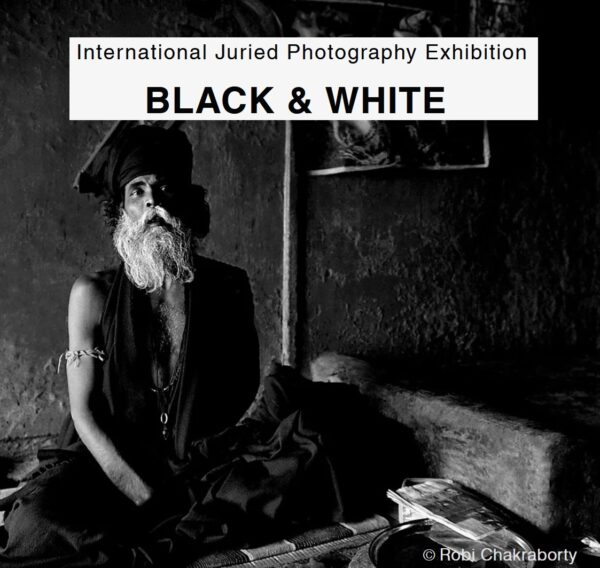 Half a century after the advent of color film, black and white & monochromatic photography continues to capture our collective imagination. Utilizing tone, contrast, texture and shape, monochromatic photography strips its subject to only the most essential visual elements; revealing a sense of soul, substance and meaning – separate from the shifting sentiments, symbolism and cultural associations of color imagery.
Praxis Gallery seeks the submission of photographic works that demonstrate the fundamental qualities that make black and white & monochromatic photography an enduring, contemporary art form. All genres, capture types, black & white and color, traditional and non-traditional photographic and digital post-production processes are welcome for submission.
JUROR | ROBI CHAKRABORTY
Originally from India, Robi Chakraborty studied photography under the prestigious O.P. Sharma at Triveni Kala Sangam Photography in New Delhi. He began his career doing both commercial and press photography in the early 1980s, but through wanderlust and with a spirit to explore, Robi became drawn to photographing the people in the cities and villages of his native India. Taking roads less traveled, Robi sought out cultures and ways of life that were quickly becoming lost in the contemporary, more homogenized world of today.
Having lived in India, Nepal, Africa and the US, Robi portrays his global view of the world through his photography by celebrating both the diversity of his subjects yet beautifully revealing the striking similarities and capturing the humanity that we can all relate to. Recent awards include the Merit Award in All About Photo Magazine (July 2018) the Excellence Award in Black & White Magazine (June 2018) and Exhibitions at Gala awards in Barcelona and Faces at Budapest diary photography (2019).
Prizes:
Up to seventy-four images will be selected by the juror for exhibition at Praxis Gallery. A Juror's Choice, three Honorable Mentions, and a Directors Choice will be awarded and featured in the exhibition, the printed show catalog, and the online exhibit gallery. Juror's Choice will receive free entry into three juried calls for entry of their choice and a complimentary exhibit book. Directors Choice will receive free entry into two juried calls for entry of their choice.
Eligibility:
International, all accepted.
Copyrights & Usage Rights:
Artist retains all copyrights to their own images. The artist's name and photo title will be included wherever the photographs are displayed. Artists whose photographs are accepted for exhibition grant Praxis Gallery the nonexclusive right to use, print, and reproduce submitted digital files for the purpose of the exhibition, promoting the artist, promoting related programs and subsequent display on Praxis Gallery's website, social media, and online exhibition archives.
Theme: