Black & White Photography Contest – CITY CODE MAGAZINE
Submit your best BW Photos and maybe you win one of our 10 Prizes
Deadline: 27 May 2019
Entry fee: Free
Submit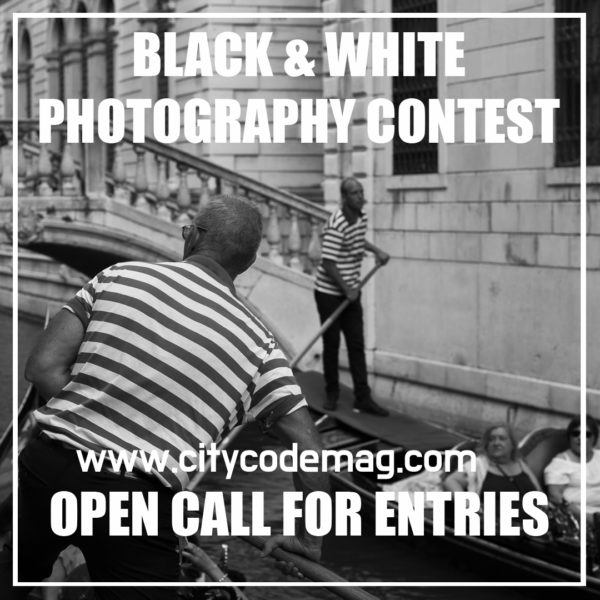 Photographers across the globe are invited to submit up to 4 images to our photography competition and win the chance to see your photo published in one of our magazines- printed and online. Juries will pick the best black & White Shoots and Readers will vote for the Public Awards. Before upload any photo read the rules & terms of the contest.
CITY CODE PUBLICATIONS created in order to promote artists around the world. Black & White Contest is an international open call for photographers of all backgrounds. There is not any fee for submission in the contest.
Prizes:
Awards
Jury Awards (Photos will be selected by Creative Team of CITY CODE)
1st Award: Online & Printed presentation or interview* in our Publications
2nd Award: Online & Printed presentation in our Publications
3rd Award: Online & Printed presentation in our Publications
*Interview depends on photographers' background.
Public Awards (Photos will be selected by Readers - Most Voted photos)
4th Award: Online Presentation of the Photographer.
Mixed Awards - short list (Photos will be selected by Juries first and after by Readers voting)
5th, 6th , 7th, 8th , 9th , 10th Awards: 6 Photos will be selected for an online presentation too. Will be presented online at our website as an article (Top10 inspirational photos submitted in one post) . At the end of the Contest we will let Readers vote again from a short list selected by Juries to have the winners of 5th-10th Awards.
Eligibility:
The "Black & White photography" contest is open to all, professional and amateur, regardless of gender, or nationality. Professionals and amateurs of any age are eligible to enter. Photographers must be at least 18 years. All the Winners at the end of the competition will have to submit the photos in high resolution. By submitting in the contest you have to be the owner of copyrights.
Copyrights & Usage Rights:
All the photographers grant CITY CODE PUBLICATIONS the right and permission to use their submitted images for any purpose that CITY CODE PUBLICATIONS deems appropriate for the promotion of the contest, either through social media or in any other way. All images will fully credit their creators by including each artist's full name. All the photographers have the right to communicate the link of the contest through their social media in order to be voted by their followers. You could find more details about the rules and terms with which each photographer should agree before submitting in our photo contest. Read the rules and terms in the platform of the contest.
Theme:
Black and White Cityscapes Architecture Culture Fine Art Nature Street Travel