British Landmarks photo competition
1st prize: £200
Deadline: 31 July 2018
Entry fee: Free
Submit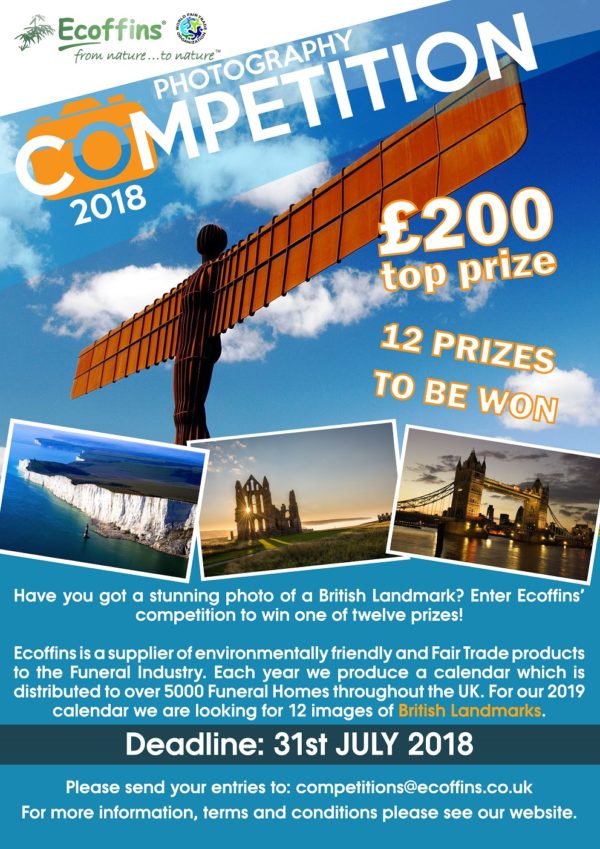 Ecoffins produces a desk calendar every year for their clients, who are mainly Funeral Directors. The calendar gets distributed throughout the country and is displayed in many of the UK's 6000+ Funeral homes. This year's theme is "British Landmarks" and Ecoffins is looking for 12 images, one for each month. The images should display a well-known British landmark, perhaps an iconic landscape, a remarkable building or a popular tourist destination. Due to the sensitive environment in which this calendar will be used, Ecoffins is looking for images that reflect the beauty of British landmarks in a positive, memorable and calm way.
Terms and Conditions:
Entrants may submit 1-3 photographs as a JPEG file with a resolution of no more than 1400 x 1050 pixels and a maximum of 300 dpi. The file size can be between 1 – 4 MB. The image can be in colour or black & white. A short description of their background as a photographer and contact details would be appreciated. Please consider the final size of the printed image (10x 15 cm in landscape format) when entering your image. The photographer's name will be printed alongside the chosen printed image with their permission. Entrants' contact details must be supplied in order for prizes to be delivered.
The competition starts 4th June 2018. The closing date is the 31st July 2018.
A cash prize of £ 200, - is awarded to the selected overall first placed entry and a prize of £25, - in form of an Amazon voucher is awarded each to the 11 other selected calendar entries.
There is no age limit for entering this competition. Written parental/guardian consent is required where a participant may be under the age of 16. Entrants can be amateurs or professionals.
All entries will be judged by a jury representing Ecoffins. The winning entrants will be informed by 15th August 2018. The prizes will be sent by post, and the winner's entries shall be published with their consent.
The decision of the judges of the photos on all matters shall be final. The judges reserve the right in their reasonable discretion: (a) to disqualify any claimant, competitor or nominee whose conduct is contrary to the spirit of the rules or the intention of the (b) to declare as void any claims resulting from any printing, production and/or publication errors on Ecoffins' website and/or other printed materials (c) to add to or to waive any rules on reasonable notice; and/or (d) to cancel the promotion or any part of it at any stage in the event of circumstances beyond Ecoffins' reasonable control. Any such changes will be announced on Ecoffins' website under the Terms and Conditions. In case of a cancellation of the competition Ecoffins will not be using the sent photos.
Ecoffins reserves the right to alter an image in size or crop it in order to publish it on their related media.
Ecoffins accepts no liability for any promotion by a third party and such third party is responsible for accepting the existing copyrights. Ecoffins also accepts no liability should a printing or production error in connection with the promotion appear in any of their publishing media.
All entries must be made available if requested for the checking or verification of any claim.
Publicity may be given to promotion winners and winners' names and images may be published in magazines, Ecoffins' social media and on this website and other website(s) relating to the promotion. Winners must co-operate fully for publicity purposes if so required.
All submissions must be the entrant's own work, and they must own the copyright to the images.
Employees of Ecoffins are not eligible to take part in this competition, nor are their relatives or members of their families or households. Proof of eligibility must be provided on request.
Entrant data:
We will only gather name, address and email contact details of entrants for the purposes of; confirming their entry has been received, notifying winners and runner-ups, and notifying those that have not won.
Entrant's data will be held only for the duration of the competition and judging period. All entrant contact details will be deleted after 15th August 2018.
Only the names of the winner and runners-up will be retained for image copyright purposes.
Entrant's data is for Ecoffins use only and will not be shared with any third party organisations.
Consent will be sought from winners and runners-up to share their data via any publications.
Parental/guardian consent is required where a participant may be under the age of 16.
Entrants will not receive any marketing from Ecoffins.
Ecoffins Privacy Policy can be viewed on the website.
Copyright/Usage rights: Copyright of all entries remains with the photographer, but Ecoffins and their associated group companies reserve the right to use, publish and republish all entries in connection with the competition, on their calendar, websites and other associated media without payment. By participating in this promotion, you are deemed to accept these rules and the specific directions/terms and conditions applicable to this promotion as well as any terms and conditions of any relevant third party.
Prizes:
1st prize: £200,-
2nd - 12th prize: £25,- Amazon vouchers
Eligibility:
Open contest worldwide and to all abilities
Copyrights & Usage Rights:
Copyrights: Every contestant owns the copyright of submitted images. Participants are to verify sole ownership of their work.The contestants give permission to use without payment a free licensing right to unlimited access to the submitted iamges for advertising and Contest-related purposes such as PR materials, calendars, social media and Ecoffins' website. By entering the contest, participants agree that their images will be a part of its history and may not be deleted.
Usage rights: All winning photos will be used to create a printed 2019 calendar. The images will - with the permission of the contestant - have the name of the photographer printed along side the image. Images may also be displayed on the Ecoffins' website, their social media, in magazines or other related publications. .
Theme: