Call For Entries 08
WE ARE LOOKING FOR THE TOP 6 PHOTOGRAPHERS TO BE PRESENTED WORLDWIDE
Deadline: 31 May 2019
Entry fee: Free
Submit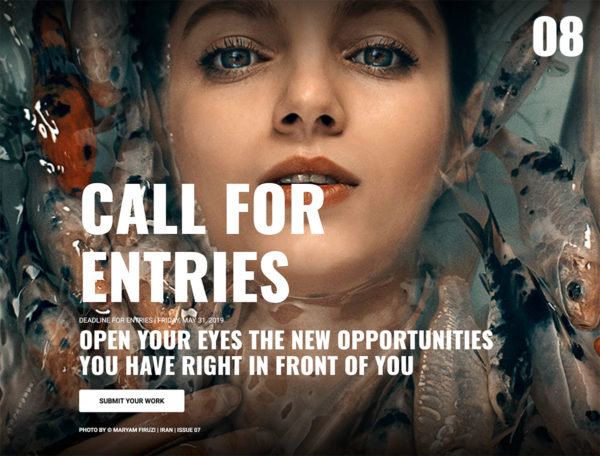 Welcome to the casting for the projects or portfolios selection that will be published in the Dodho Magazine next edition 08, this edition will be published and distributed during the next month of June. As in the past editions, we will place 6 incredible photographers at the disposal of the most important people in the world photographic industry.
In this edition of Dodho Magazine we will discover and exhibit the best photographers and works of the moment. We are selecting the 6 photographers that will be presented worldwide in this new printed edition of Dodho Magazine. Your work deserves a broader audience, and this is your opportunity for your images to be seen and valued by the best professionals in the photography industry around the world.
The print edition of Dodho Magazine is the only publication with exclusively professional character and genuine spirit of promotion. Initially designed as a solid and powerful tool for the dissemination of new talents, it has become after the enormous acceptance by the industry in a publication of reference for the selection and discovery of huge photographers with delicious projects and fantastic stories to show the world.
Prizes:
You have the opportunity to publish your work in one of the most prestigious magazines aimed at professionals in the photographic industry; their work will be seen by the best galleries, agencies and photography festivals around the world. From Barcelona to New York from Tokyo to Dubai, from Los Angeles to Sydney our mission is to promote and seek opportunities for photographers, published in each issue at the global level.
Eligibility:
All
Copyrights & Usage Rights:
Conditions & Licenses
All participants to Call For Entries 08, by virtue of their presentation, believing the images and projects presented are their own work and there has been no infringement of copyright. Dodho is not responsible for any infringement of rights may arise during the selection process and subsequent display of any image. The entrant is responsible for obtaining, prior to submission of the photograph, any and all releases and consents necessary to permit the exhibition and use of the photograph. The projects will be judged by a professional and relevant jury in the photography field, with no flare and none of the author data. The jury's decision will not be appealable and will be definitive.
Copyrights & Usage Rights
The images and projects copyright will be exclusively and at all times of the photographer and author of the project. The images will use strictly in relation to the Dodho prizes and will not be used for other purposes than the direct promotion of their authors. The images may not be used in any case by any third party without the express consent of the author and by written request, which will be sent to the author by email. Dodho is granted the right to publish the best works received in its online version and subsequent promotion in its social networks, always safeguarding authorship and copyright.
Theme: