Call For Entry: Airport Show 2019 Atlanta Photography Group
Juror Amy Miller will select 30 photographs to exhibit
Deadline: 14 July 2019
Entry fee: 2 works: $35, 4 works: $50, 6 works: $75, 8 works: $100
Submit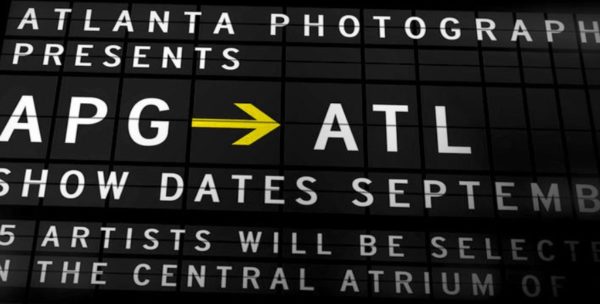 Atlanta Photography Group (APG) is now taking submissions for our annual Airport Show. Juror Amy Miller will select 30 photographs to exhibit in the central atrium of the world's busiest airport: Hartsfield-Jackson Atlanta International Airport (ATL). ATL has an average of 260,000 visitors a day, making this an opportunity to have your photographs seen by literally millions of travelers from all over the world.
This exhibition will be featured in Atlanta Celebrates Photography (ACP) Festival Guide and work will be for sale – artists receive 60% commission. Artists will be responsible for only producing prints; APG along with Hartsfield Jackson airport will handle the framing and installing of the artwork.
Scholarships
APG offers need-based Scholarships for all of our exhibitions that will cover the submission entry fee. Don't let a lack of funds prevent you from sharing your vision with the world. Be a part of the photography community and show your work today.
Prizes:
Part of Atlanta Photography Group's mission is to create an inclusive art community. We recognize that fine art photography can be a very expensive pursuit. The significant costs of equipment, printing, and framing can restrict the ability of many individuals to participate in exhibitions and other programs. This limits not only the careers and economic contribution of potential artists, but also the impact of their voices on our community. To address this need, APG has created a need-based Scholarship Program that reduces fees for memberships, exhibition entry fees and class tuitions.
If you are interested in applying for an APG Scholarship (These only apply to APG exhibition entries, events, classes, and workshops), simply click on and fill out the form below, and we will be in touch.
Eligibility:
All entrants must be members of APG.
Copyrights & Usage Rights:
APG reserves the right to reject any work that differs from the work submitted or is not exhibition-ready in quality or presentation.
Theme: