Call To Artists-Photographers "Abstract 3" For an exhibition at Gallery 25N
Be part of an exhibit and worldwide maketing
Deadline: 14 November 2016
Entry fee: Free
Submit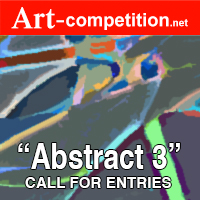 Call To Artists "Abstract 3" For an exhibition at Gallery 25N
Art-Competition.net is proud to announce the international art call "Abstract 3".
Theme and Selection: "Abstract 3" - For this group exhibition the curators will be looking for art of any subject created in abstraction. They will select twenty artists for this exhibit and one to five works of art will be chosen from each of the selected artists. The artwork must be based on pure or ambiguous abstraction, where the subject or message of the art is pushed to visual limits of abstraction so that there is little or no representation of the real world (as in nonrepresentational). The submitted artwork can be of any subject that is communicated in the power of abstraction. The composition elements and aesthetic principles of the work must rely on form, color, action, lines, marks, texture, etc. to create an abstract work of art to engage the viewer and draw them into the intention of the artwork.
Submission Deadline: November 14, 2016 (Midnight EST)
Prospectus: http://art-competition.net/G25N-Abstract3.cfm
Prizes:
Twenty artists will be selected for an online group exhibit, "Abstract 3" at Gallery25N; the exhibit and artists will be extensively marketed worldwide to over 20,000 people including art buyers, gallery owners, curators, collectors, etc. Participants must be 18 years of age or older working in any still art medium.
Eligibility:
This competition is open to all artists/photographers 18 years of age or older. Entries must be any still medium such as: paint, drawing, photography, sculpture, installation, digital, collage, fiber art, etc.
Copyrights & Usage Rights:
The artist retains all copyrights to their artwork without exception.
Non-exclusive Permissions:
By entering this art competition, you are granting us a non-exclusive perpetual license to reproduce images of your artwork on our art-competition.net website and in our newsletters, and in the marketing of the art competitions to the general public. Artworks will not be used for any other purpose than that which is stated here. All winning entries will be displayed on the art-competition.net website. Each entry becomes part of the public, historical / archival online contest catalog. It can be removed at a later date upon request.
Theme: