Calling All Artists: Boynes Monthly Art Award September
Theme: Nature
Deadline: 28 September 2023
Entry fee: $10
Submit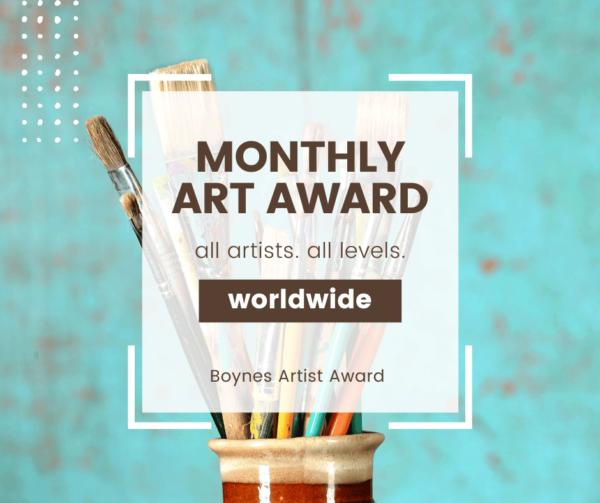 Capture the beauty of nature in your unique artistic expression! The Boynes Monthly Art Award proudly presents the September Edition, inviting talented artists from around the world to submit their captivating creations.
Theme: Nature
This theme calls for artistic expressions that celebrate the natural world in all its splendor. From majestic landscapes to delicate flora and fauna, artists have the opportunity to delve into the enchanting realms of nature. Through this theme, artists can convey the harmonious coexistence of humans and the environment, urging viewers to reconnect with the earth's wonders and embrace its conservation. Nature's infinite variety offers endless creative possibilities, from capturing serene moments to illustrating the dynamic forces of the wild.
Prizes:
Prizes: $100 cash, published interview, winner's certificate, feature in our newsletter reaching 40,000+ subscribers
Eligibility:
International
Copyrights & Usage Rights:
Upon submission to the Boynes Artist Award, the artist will retain full copyrights to their work as well as 100% of any sale made as a result of promotion and marketing of the works through the Boynes Artist Award.
Theme: