Camera USA™ 2017: National Photography Award and Exhibition
7th Annual Camera USA™ National Photography Exhibition $5,000 Award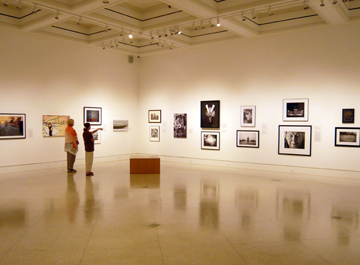 Open to photographers in the USA who are shooting in the USA. Submit one photograph for a brick and mortar exhibition to be held at the Naples Art Association in Naples, Florida from June 19 - August 4, 2017. Up to 50 photographers will have their work exhibited and the National Photography Award of $5,000 cash will be given to one photographer. Three jurors will review entries and nominate the award winner. Jurors are David Houston, Director of the Bo Bartlett Center, Columbus State University in Georgia; Gary Monroe, Senior Professor, Southeast Center for Photographic Studies, Daytona State College in Daytona Beach, Florida; and Robin O'Dell, Curatorial Administrator and Manager of Photographic Collections, Museum of Fine Arts in St. Petersburg, Florida.
Entry fee $28. The Naples Art Association is a 63-year old visual arts non-profit organization located in the heart of the 5th Avenue South shopping, dining and entertainment district. Exhibitions are free and open to the public. Gallery hours during the Camera USA™ 2017 exhibition are Monday through Friday from 10 am to 4 pm. For Complete
Past winners are Art David of Naples, Florida in 2016; Kathleen Brennan of Ranchos de Taos, New Mexico in 2015; Brett Grandson of Duluth, Minnesota in 2014, Tony Hertz of Pismo Beach, California in 2013; Jon Malis of Washington D.C. in 2012 and David E. Wensel of Geneva, Illinois in 2011.
Prizes:
One photographer will be nominated for the $5,000 National Photography Award. The award nominee will be notified by telephone or email on May 22, 2017. In order to qualify for the award the nominee must 1) hand deliver his or her exhibit-ready photograph to the Naples Art Association by no later than 2 pm on May 20, 2017 or if shipped the photograph must be delivered to ARTMove LLC in Naples, Florida by no later than May 15, 2017 and 2) attend the June 16, 2017 preview reception for the Camera USA™ exhibition at the Naples Art Association, 585 Park Street in Naples, Florida and arrive by no later than 6 pm EDT. An award nominee residing in Florida will receive up to $300 in travel reimbursement and up to three nights hotel accommodations in Naples, Florida. An award nominee residing outside of the State of Florida will receive domestic round-trip economy class airfare for one and three nights hotel accommodations (June 15-17) in Naples, Florida. Ground transportation including airport shuttle or rental car is the award nominee's responsibility and will not be arranged or reimbursed by the Naples Art Association.
Eligibility:
Photographers must be residing in the USA and have taken the photograph entered in the USA after January 1, 2013.
Copyrights & Usage Rights:
Due care will be taken with all photographs. However, the Naples Art Association will not be held responsible for loss or damage to exhibited photographs. The Naples Art Association recommends Camera USA™ 2017 exhibition participants acquire insurance to cover loss or damage.
Theme: