Capture Memorial Day Photo Contest
Help us capture the spirit of Memorial Day by sharing your photos.
Deadline: 6 June 2016
Entry fee: Free
Submit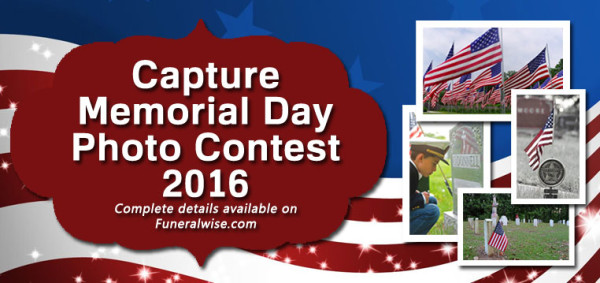 Funeralwise.com invites photographers across the U.S. to participate in its 2016 Capture Memorial Day Photo Contest. The contest will recognize and reward photographers whose images convey the meaning and emotion associated with Memorial Day in cemeteries across the United States.
Photographs must be taken of or within a cemetery located in the United States or the District of Columbia. The objective is to capture the meaning and emotion associated with Memorial Day, the annual American holiday honoring those that died in the service and defense of the country.
A panel of judges will select at least twelve (12) finalists from the images submitted to the contest site by the June 6, 2016 entry deadline. The exact number of entries will depend on the number and quality of photos submitted. The contest will open for voting on June 11, 2016. Voting will close on June 21, 2016.
Prizes:
ONE (1) GRAND PRIZE: $500. ONE (1) FIRST PRIZE: $250. ONE (1) SECOND PRIZE: $100.
Eligibility:
Open to U.S. and District of Columbia residents. Must be 18 years of age to participate.
Copyrights & Usage Rights:
By entering the Contest, each entrant grants to Sponsor a non-exclusive, irrevocable, perpetual, worldwide license to display, distribute, reproduce, adapt or modify the submitted photograph(s), in whole or in part, in any media now existing or subsequently developed, for any educational, promotional or other purpose. The Sponsor will not be required to pay any additional consideration or seek any approval for such uses. To the extent feasible, reproductions of the photograph(s) will include a photographer credit. This license does not convey ownership of copyright to Sponsor. The entrant will retain copyright ownership and may exploit the submitted photograph(s) for any lawful purpose.
Theme: