Capture the moment! international photography exhibition
Submit your photos and get your photo exhibited in Stockholm.
Deadline: 1 December 2016
Entry fee: 100SEK
Submit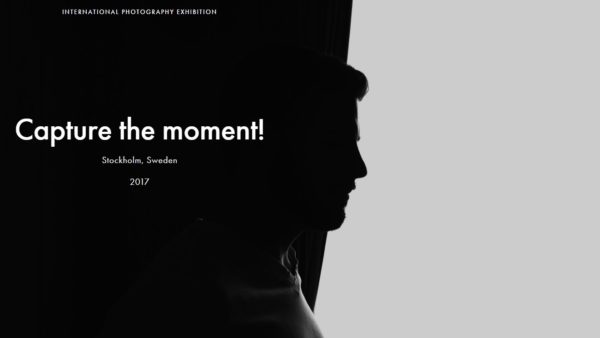 CAPTURE THE MOMENT!
INTERNATIONAL PHOTOGRAPHY EXHIBITION
As the famous French poet Baudelaire wrote in The Painter of Modern Life: "Few men are gifted with the capacity of seeing; there are fewer still who possess the power of expression"
Seeing and capturing a breathtaking moment is one of the core elements of photography. The artist has the essential power to define and capture that one moment and preserve it forever. The "Capture the moment!" international photography exhibition is proud to announce its first open call for submissions. The organizers are looking for special photographs that capture the essence of the Moment from creative and unexpected perspectives. The submission is open to everyone, beginners, hobby photographers and professionals from around the World. The organizing committee supports diversity and strongly believes in opening doors to non-professional artists as well.
The chosen photographs will be exhibited in 2017. January, in the Swedish capital, Stockholm's Galleri Norrsken that is one of the central galleries of the old town.
Submission is open: anyone, professional photographers and beginners as well
Organizers: The Stockholm Diary
How to submit photos: send your selected photographs in email to capture.submission@gmail.com
Submission deadline: 2016. December 01.
All applicants will be notified within seven days after the deadline.
Exhibition place and time: Galleri Norrsken, Gamla Stan, Stockholm.
2017. January (days TBA)
Jury: TBA in November
Application fee:
· 1. category: max. 5 photos – 100 Swedish kronas (€10)
· 2. category: 6 - 10 photos – 150 Swedish kronas (€15)
How to pay: at www.thestockholmdiary.com/application-fee website
Information, further questions: Daniel Nagy, email: daniel@thestockholmdiary.com
Submission rules and regulations:
§ Submitting artists are not guaranteed inclusion in the exhibition. The jury has the right to curate the exhibition.
§ Submissions are only valid with paid application fee
§ The application fee is non-refundable
§ Submissions must be sent to capture.submission@gmail.com
§ Submission emails must contain:
o artist name and address
o artist's website (if applicable)
o titles of submitted photos, recommended print sizes
§ File names of submitted photos must contain the title of the photo and the artist's name
§ By paying the application fee, submitting artists automatically accept the exhibition rules and regulations
Selected artists and photos:
§ The selected artists have the option of either shipping their own exhibition ready materials or ordering a fine print from the organizers (all printing fees are paid by the submitting artist)
Prizes:
Exhibition opportunity for the selected winners in Stockholm, Sweden
Eligibility:
Open for all
Copyrights & Usage Rights:
All rights remain at the photographers. Photos will be used only for the purpose of public exhibition during given time period in January, 2017.
Theme: